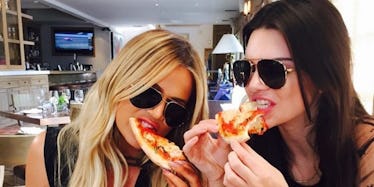 Khloé Kardashian Opens Up About Kendall Jenner And Harry Styles Dating (Video)
IT'S REAL, YOU GUYS. THINGS ARE O-F-F-I-C-I-A-L! (Basically.)
Ever since Kendall Jenner and Harry Styles were photographed getting cozy together on a yacht in St. Barts, rumors have been flying about their relationship.
The two have had some history together, but it looks things have been getting pretty serious lately. I mean, who takes "just a friend" on vacation?!
Anyway, we have the confirmation we need. Big sis Khloé Kardashian spilled the beans about Kendall and Harry's relationship in an interview with Entertainment Tonight.
Koko told ET,
Do I think they're dating? Yes.
She added,
I don't know if they're like boyfriend-girlfriend. Nowadays I don't know. People are weird with stuff. So, I don't know their title. But I mean, they were in St. Barts together hanging out, so to me that's dating.
THAT'S WHAT I'M SAYING. Glad we're all on the same page. Khloé also mentioned she wasn't sure if the two had "the talk" yet about what exactly their relationship is. But WHATEVER, I've got enough info at this point to make me happy.
CONGRATS, KENDALL AND HARRY. Now it's time to go on that double date with Gigi and Zayn. THANKS!
Check out the video above to listen to Khloé's full interview.
Citations: Harry and Kendall Officially Dating (Refinery29)