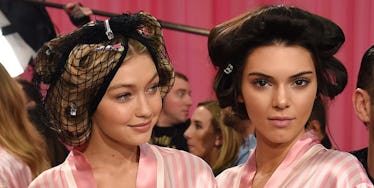 How Gigi And Kendall Could Be The Secret To Reuniting One Direction
Getty Images
If you don't already know, Gigi Hadid and Kendall Jenner have come to define friendship goals within the last year.
They're the ultimate yin and yang, blonde and brunette, chill meets diva pair of friends.
The girls have supported each other through modeling because of their similar parental celebrity status that many people think undermines their actual model credibility.
In latest news, the celebrity best friends have both been coincidentally (or not) dating One Direction members Harry Styles and Zayn Malik (who will forever be a member to us because Simon Cowell said so).
If we look at the timeline, you'll notice that Kendall and Harry have been taking things slow ever since November of 2013, and have been on and off due to their busy careers.
On the other hand, Gigi Hadid has been rumored to be dating Zayn Malik since November of 2015, when they attended the American Music Awards.
Mental note to start all relationships in November.
Even celebrities aren't above the perks of cuffing season!
But, the best part is the fact that over the past New Year's weekend, Kendall and Harry were spotted in St. Bart's on vacation together.
Rumors have been flying about the two for a few years now, and photos every now and then surface of dates.
But a vacation? That's next level on the relationship scale.
Especially since Kendall is mostly famous for her family-only vacations.
Based on the photos of them cuddled up, we're pretty confident that they are official.
Both dark and mysterious souls belong together.
Fast forward to the beginning of the New Year, and we have an Instagram photo on Gigi's account of shirtless Zayn and her cat.
And for all the doubters, there's no mistaking who's in the photo, despite his face not being clearly shown because of all his tattoos.
Not to mention his unmistakable appearance's in Gigi's Snapchat stories.
Similar to their celebrity counterparts, there was a lot of speculation, but the couple seemed to keep it low key in the media after his breakup with Perrie.
This picture officially tells us that the couple is done hiding; we're just waiting for their PR people to confirm.
Now what's the connection between the two?
Well, put simply, we're waiting for the dream team to have a double date.
To quote the OG British girl band The Spice Girls:
If you wanna be my lover, you gotta get with my friends...
So we're hoping Kendall and Gigi will meet each other's boyfriends in one setting.
These girls are smart, and quite frankly, why would they not want to become squad goals and bring Zayn and Harry back together?
Remember the good old days when they loved each other?!
Well maybe it's possible that Gigi and Kendall can slowly rebuild the One Direction bonds, even though everyone is trying to go solo.
We won't talk about that now.
Puh-lease girls, us Directioners just want this one wish, and you'll receive way more love from us than the angry Swifities and fans of Little Mix.
Let's merge these two dating directions into one!
Otherwise, they might just become another "supermodels and musicians" story, and we really have higher hopes for both couples.
This story could be better than words.
I don't know how else to sum it up 'Cause words ain't good enough, ow There's no way I can explain your love, no I don't know how else to sum it up 'Cause words ain't good enough, ow I can't explain your love, no It's better than words Better than words
PLEASE!
Citations: Kendall and Gigi Almost Related (BuzzFeed), Harry Styles Kendal Jenner Break Up (Daily Mail), Gigi and Zayn Dating (Us Magazine)