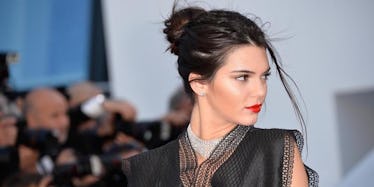 Kendall Jenner, Harry Styles, Ellen And Portia de Rossi Are The New #SquadGoals (Photos)
Getty Images
First, Kendall Jenner stole Harry Styles — now, she's taken Taylor Swift's title of #SquadQueen, too.
On Friday, Jenner and rumored boyfriend Harry Styles were photographed getting cozy together on a yacht in St. Barts, as they continue their post-holiday couples' vacation.
The pair was joined, rather unexpectedly, by Ellen DeGeneres and wife Portia de Rossi, whom they are apparently quite friendly with.
Sources say DeGeneres and de Rossi arrived by speedboat, but it is unclear how long they stayed.
I'm calling it now: This #squad is the squad to watch in 2016.
Take a peek at the pics below. Oh, and if there were any doubts: Jenner and Styles are definitely (probably) a thing.
Citations: Ellen DeGeneres and Wife Portia de Rossi Join Kendall Jenner and Harry Styles on Their Yacht in St Barts (People)