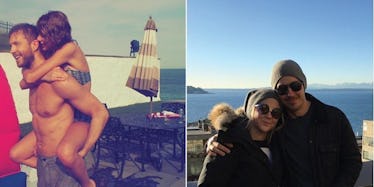 24 Celebrities Who Are Already Giving Us #RelationshipGoals In 2016 (Photos)
Instagram
As the new year comes around, I can't help but think about starting fresh and falling in love.
It's hard to not think this way after spending New Year's Eve watching couples lock lips while you're alone making out with a wine bottle. Oh, was that just me? FML.
Anyway, at the beginning of the year it's always great to see which celebrity couples made it through 2015 and are prepared to keep their love alive in the new year.
Whether the love is young and fresh or years old at this point, these 12 celebrity couples are already going strong in 2016.
1. Amy Schumer and Ben Hanisch
News just hit Amy Schumer is officially dating a furniture designer from Chicago. The handsome man Instagrammed this photo of them on Tuesday and captioned it,
Sometimes in life you get extremely lucky, and the smartest, funniest, most beautiful woman comes along when you least expect it. Here's to what adventures 2016 brings!
It looks like Schumer is starting her year off strong and has a bae by her side to keep her going.
2. Justin Bieber and Hailey Baldwin
Earlier this week, Justin Bieber revealed he is coupled up with model Hailey Baldwin. He posted this suggestive image on Instagram and has been super cozy on vacation with her. Congrats, you two; no one is surprised.
3. Harry Styles and Kendall Jenner
The two stars were seen cuddling up with each other and kissing on a yacht in St. Barts. It's rumored the two are dating, but we're not TOTALLY sure that's true. Either way, it looks like the two are definitely having fun with each other.
4. Gigi Hadid and Zayn Malik
At the end of November, it was announced these two lovebirds began dating after Gigi's split with Joe Jonas. You have to admit, they're a pretty damn good-looking couple. It looks like things are still going strong for them into the new year. Keep the love alive, kids.
5. Kylie Jenner and Tyga
Kylie and Tyga have been dating for quite a while now, and the couple is still more in love than ever. Although there have been rumors about Tyga texting a 14-year-old girl, it looks like the exchange was music related and Kylie is still the woman in his life.
6. Scott Disick and Lina Sandberg
It was recently revealed Scott Disick is dating a Swedish model named Lina Sandberg. A source told Us Weekly the two were together in LA and he's pretty interested in her. Who knows where this will go?
7. Taylor Swift and Calvin Harris
Here's just a friendly reminder Taylor and Calvin are in love and have NOT broken up. Their relationship has been on the DL, and there were rumors they may or may not be living together. Regardless, this couple is in it to win it.
8. Gwen Stefani and Blake Shelton
After flirting non-stop with each other as judges on "The Voice," the whole world became suspicious of Gwen and Blake's relationship. The two were confirmed to be dating and have been music's new "it" couple ever since.
9. Khloé Kardashian and James Harden
Khloé and James, despite rumors of their breakup, are still going strong. They've been pretty public with their relationship, so we'll see what 2016 brings.
10. Zachary Quinto and Miles McMillan
These cuties are even more in love with each other than the first day they met. The adorable couple has been together for a little over a year now, and they are still perfect for each other. It looks like they recently enjoyed a romantic Christmas on the beach, so we continue to wish them the best.
11. Lena Dunham and Jack Antonoff
Lena and Jack had the most adorable New Year's Eve celebration together. She Instagrammed this photo and captioned it,
so much joy to you and yours! thank you for making 2015 a pleasure, insta-friends! lucky to spend my fourth NYE with this old man
The two have been together for a pretty long time, and it looks like their future together is bright and definitely headed in a positive direction.
12. Ellie Goulding and Dougie Poynter
So there were rumors Ellie and Dougie broke up, but there are ALSO HAPPIER AND BETTER RUMORS the two may be reconciling their relationship. No matter what happens, these two are soulmates and need to be together. I mean, JUST LOOK AT THEM!
Citations: Taylor and Calvin Not Living Together (People), Ellie and Dougie Reconcile Relationship (Daily Mail)