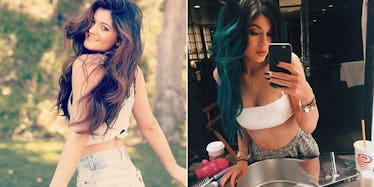 Tyga Taught Her: How Much Kylie Jenner Has Changed Since Dating Tyga
Instagram
Ever since Kylie Jenner started dating Tyga, nothing's been the same.
Sure, the age difference is what has most people talking -- considering she's 17 and he's 25 --  but age ain't nothing but a number!
Besides, she's been 17 for at least a decade now!
What's most impressive is the insane transformation she's undergone in just a matter of months of their relationship, though.
This before-and-after collage speaks volumes. I guess those Kardashian genes are kicking in.
Poppin' no lie, but one thing is clear: Tyga taught her!
Kylie Jenner switched her whole swag up and has all of her high school classmates, plus about 20 million followers on Instagram, wildin'.
If you're hating on her, it's quiet for you. Get your bad up! And don't hate on Tyga, either. He's just doing what we all wish we could.
Kylie Jenner first met Tyga in 2011. She was 14 and at her sister Kendall's 16th birthday party .
Around that time, she was just a child.
Today, she's just straight-up TOO BAD.
The real question is this: How did it all happen so fast?
Tyga first sparked rumors when he broke up with his long-term girlfriend, Blac Chyna, last summer.
It soon became clear why.
They started spending holidays like Halloween together.
And even serious ones like Thanksgiving.
Still, Kylie was spending time with other rappers, like the one below.
She shot down all the rumors real quick.
in not trying to become a rapper, I'm not getting married, & I'm not pregnant.... — Kylie Jenner (@KylieJenner) December 12, 2014
But, it was clear something was changing.
You know it's starting to get real when you visit the children's hospital together.
From backstage at the Grammys...
To the after party...
...Kylie Jenner was in there like swimwear.
All of this got Bruce Jenner like:
Still, both denied the relationship, even though we all saw through it (go to 16:00).
Tyga finally professed his love for Kylie on Instagram.
kinggoldchains: Your beauty never goes unnoticed. One of the best/dopest person in my life.
And Kanye later confirmed it.
Damn, Tyga is really falling over for this one.
kinggoldchains: Certain things catch your eye, but only few capture the heart.
And it has nothing to do with the fact that Kylie's slowly morphing into his ex.
The two have no problem sharing their relationship on social media now.
We can all stop making jokes about it now.
It's safe to say we all saw this coming.
OK, I'm sorry, just one more!
End conclusion: Tyga is still winning.