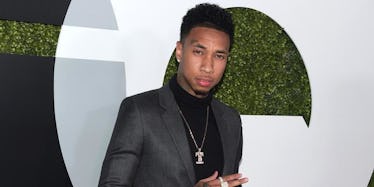 Tyga Involved In Alleged 'Sex Scandal' With 14-Year-Old Girl
Getty Images
On December 28, OK! Magazine published a cover story revealing an alleged "sex scandal" between rapper Tyga and a 14-year-old high school student.
Although the young girl's face was blurred in the publication, her identity was compromised, and several people were able to identify her via Instagram.
Today, famed civil rights lawyer Gloria Allred held a press conference alongside the ninth grade student, during which now-identified Molly O'Malia had a chance to tell her side of the story.
Watch the 14-year-old model and aspiring singer speak out in the video below:
As she's comforted by Allred standing at the podium, O'Malia sets the record straight after OK! Magazine pinned her as "excited to be part of 'an alleged sex scandal,'" according to Allred.
O'Malia says correspondence with Tyga was initiated by the rapper when he direct messaged her on Instagram, to her surprise.
An aspiring singer, the 14-year-old says she thought Tyga was contacting her about her music, but she became concerned when he asked her to FaceTime.
She adds, the magazine did not contact her or her mother, seeing as she's a minor, for permission to publish what she infers to be erroneous information.
Regarding the image used to identify the girl, O'Malia states,
Even though [they] pixelated my face and did not use my name, a lot of people could tell it was me.
She also notes that the magazine did not receive screenshots of the alleged conversation from her.
The girl's Instagram and Twitter accounts have since been made private.
O'Malia's attorney, Allred, says,
[Molly] has nothing to be ashamed of. Maybe some other people do. Now, I know that Tyga has music coming out this month, 'Gone Too Far.' Well, I think he's gone too far with this.
Tyga and girlfriend Kylie Jenner have yet to comment on the matter.