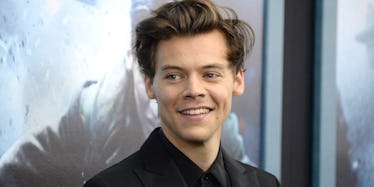 This One Lyric In Taylor Swift's "Ready For It" Could Mean It's About Harry Styles
Kevin Mazur/Getty Images
Well, at least she didn't keep us waiting this time. After teasing her next song on Instagram and during a college football game late Saturday night, Taylor Swift released "Ready For It" bright and early on Sunday morning. The latest single from Reputation has a much sexier vibe than the first, "Look What You Made Me Do," so of course, many fans are wondering if "Ready For It" is about Harry Styles. He and Swift may have broken up in 2013, but that can't stop 'shippers from looking for any possible clues that the two exes still think about each other. And in the case of "Ready For It," there's actually a pretty big one.
There are many standout lyrics in "Ready For It," but only one holds a major clue about who the song could be about. Early in the song, Swift sings, "younger than my exes but he act like such a man so." The rest of the song is filled with flirty lyrics like:
Touch me and you'll never be alone I-Island breeze and lights down low No one has to know In the middle of the night, in my dreams You should see the things we do, baby
Obviously, we need to know who exactly it is that Swift is having sexy dreams about, and many fans have decided that it's Styles for a simple reason: he's one of the youngest guys she's dated. The former One Direction member is 23 years old, compared to Swift's other notable exes, Calvin Harris (33), Tom Hiddleston (36), Joe Jonas (28), and Jake Gyllenhaal (36).
However, Styles isn't the only contender. Swift's ex Conor Kennedy is actually 22 years old, so technically, it could just as easily be about him. But the biggest suspect is definitely Swift's current boyfriend, Joe Alwyn.
The sexy, flirty nature of the song suggests that it's about someone Swift is currently into, and as much as we may love to 'ship Haylor, that's not quite as likely as the guy that she's actively dating. Plus, Alwyn is only 26, so he may be older than Styles, but he's still younger than most of Swift's other exes and could fit the description.
At this point, most Swift fans seem to be torn between Styles and Alwyn as the subject of the song (sorry, Kennedy).
Hey Taylor, I know you're so busy with all this music and everything, but can you come clear this one up for us please? Thanks.