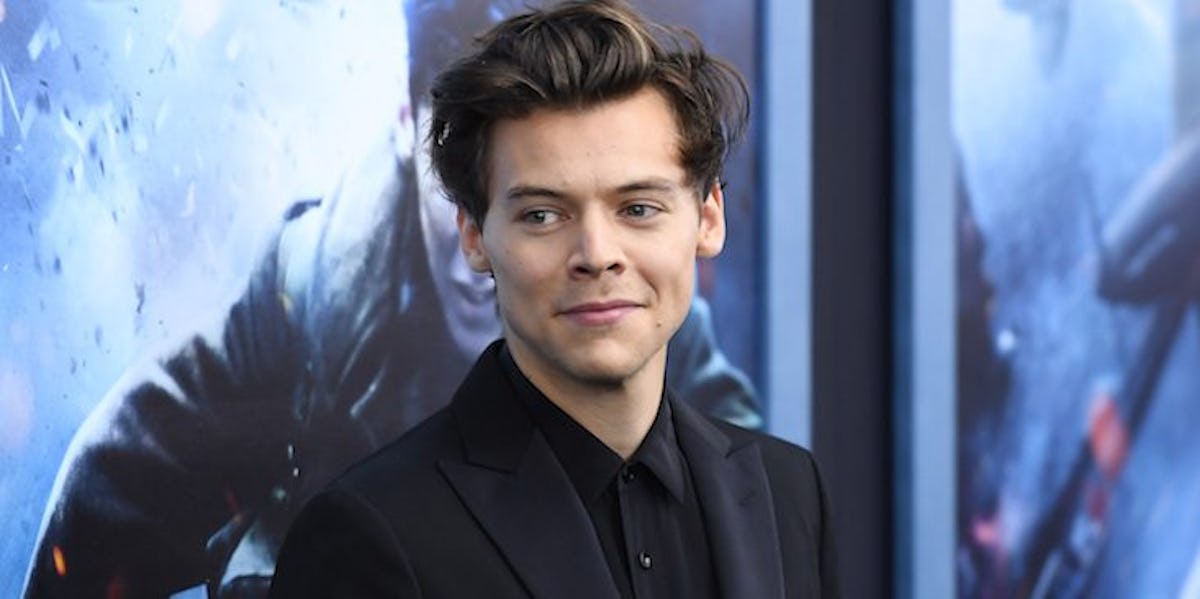 Niall Horan Attended Harry Styles' Concert & The Videos Will Make You Freak Out
ANGELA WEISS/AFP/Getty Images
Harry Styles just kicked off his solo tour and he had a very special friend in the audience. His former One Direction bandmate, Niall Horan, was on hand to watch the show and let's just say fans had no chill about the situation. Videos of Niall Horan at Harry Styles' concert have landed online, though seeing the footage makes me want more!
And I'm not alone because fans have been burning up Twitter with plenty of excited reactions and a few questions, too. Horan's showing at Styles' concert at the Greek Theater in Los Angeles on Sept. 20 means they're still good friends, despite the fact that their 1D days are well behind them. It begs the question, will Styles show up at one of Horan's Flicker tour dates? You've got to love the showing of support, right?
In one of the quick video clips, Horan, sporting a hat, smiles and looks like he's having a great time while Styles performs. It's also cool to note that Styles has been performing a couple of One Direction hits in his set — "What Makes You Beautiful" and "Stockholm Syndrome" — which is a great sign that he's thankful for where he started.
Check out the video of Horan in the crowd:
Another fan managed to snag this (and get a shoutout to Horan too!):
And here's Styles during his performance, dressed in head-to-toe floral because he totally can pull it off like no other. Seriously, who else can do that and add a flouncy shirt bow to the mix?
Fans weighed in with nothing but love over Horan's appearance, with one person writing: "LOOK HOW HAPPY HE IS. NIALL IS THE SUPPORTIVE FRIEND WE ALL NEED."
Soak it all in:
Another noted: "niall was at harry's show last night that's all i needed." I feel you.
Still another fan was plenty emotional, tweeting: "niall going to harry's concert to support him got me tearing up."
Another emotional fan was feeling a lot of feels, tweeting: "IM CRYING BLOOD. NIALL WENT TO SUPPORT HARRY ON HIS SHOW AND IF THAT AIN'T A TRUE REPRESENTATION OF TRUE LOVE THEN IDK WHAT THE HELL IS."
This fan pointed out what we all are looking for right now: "well where is a photo of harry and niall from last night i know it exists."
Others hoped there was footage of Horan singing along, with tweets like: "Did nobody film Niall in the audience while Harry was singing 'What Makes You Beautiful?' You're all failures" and "I need a video of Niall jamming to Harry's version of 'Stockholm Syndrome' and 'What Makes You Beautiful.'"
One person imagined it would be a bit like this:
And here's Styles singing "WMYB." Oh, the feels:
Styles reportedly shared some love about his 1D brothers, with one fan reporting: "HARRY CALLED LIAM, NIALL AND LOUIS HIS WONDERFUL FRIENDS WHEN INTRODUCING STOCKHOLM SYNDROME IM NOT CRYING UR CRYING."
Horan wasn't the only famous Styles superfan in the crowd either, as people reported other celebs were there: "OKAY SO LET ME GET THIS STRAIGHT, MICK FLEETWOOD, SABRINA CARPENTER, ADELE, EMMA ROBERTS, AND NIALL ARE ALL THERE FOR HARRY TONIGHT." Respect.
Styles just came under fire for his tour merch costing more for larger sizes, but honestly, he has no control over that side of the tour. It all got sorted out pretty quickly, as a representative released this statement explaining the error: "There was a mistake in size pricing at last night's show. Harry and his team were unaware and this has now been rectified."
Check out the entire Gen Why series and other videos on Facebook and the Bustle app across Apple TV, Roku, and Amazon Fire TV.