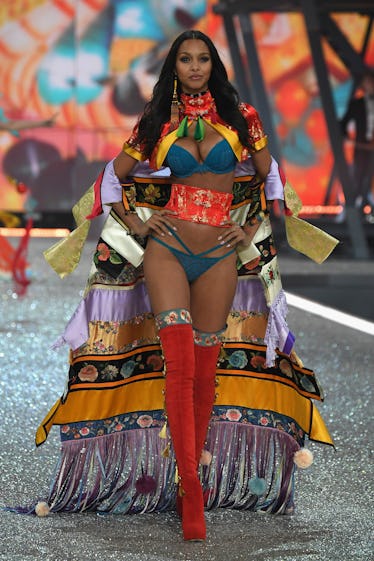 Victoria's Secret Revealed The 2017 Fantasy Bra For The Fashion Show & It's Gorgeous
Pascal Le Segretain/Getty Images Entertainment/Getty Images
It's that time again, ladies. The time of year when photos of the 2017 Victoria's Secret Fantasy Bra are unleashed upon the general public, somehow making us all feel like both angels and human pieces of garbage at the same time. It's the best.
For those of you that are lingerie illiterate (*points to self*), the Victoria's Secret Fantasy Bra is a special piece of clothing one lucky angel gets to rock down the annual televised runway show each year. Traditionally, it's impeccably designed, overly detailed, stupid expensive, dripping in diamonds, and always gets some sort of fancy name. This year, this beauty is being called the Champagne Nights Fantasy Bra.
Say it with me now... OOOoohhHH! AhhHHHhH!
Champagne Nights? More like Champagne HELLO, WHAT'S IT LIKE TO BE A REAL LIFE MODEL? Amiright?!
This year, the design is regal, sensual, and so, so gorgeous. It also costs just a very chill $2 million thanks to all the blue sapphires hanging from the golden fabric, weighing more than all of my Kohl's costume jewelry combined.
Brazilian model Lais Ribeiro is the lucky angel who will be wearing it down the 2017 Victoria's Secret runway show, this year in Shanghai, and she is pumped.
In truly the most stunning Instagram picture post of all time, she wrote,
I've been holding this secret for too long and I am beyond honored to announce that I will be wearing the Champagne Nights Fantasy Bra this year! I am very happy and thankful for my Victoria's Secret family for trusting me and all the support from my own family, friends and fans! THANK YOU SO MUCH!!! It's official!!
Ribeiro, 27, was officially given her angel wings in 2015 after working with Victoria's Secret for five years. She found out she was chosen to wear the fantasy bra when she went in for show fittings and explained how surprised she was to hear the news.
She told Vogue, "I had no idea that [the fitting] was for the bra. I came in and when I tried it I cried, it was unbelievable."
She also gave us some details on what it's like to wear something this... IDK... fancy? She said, "You just feel so powerful wearing it—like all the hard work has paid off."
Ah, #same.
Ribeiro is in great, swanky bra-wearing company, following in the footsteps of Fantasy Bra icons Gisele Bündchen and Heidi Klum, both who had the honor of being chosen twice.
The most expensive Fantasy Bra ever created graced Bündchen's famous figure, and cost a shaking $15 million. It was for the 2000 runway show, and aptly named the Red Hot Fantasy Bra. Sporting more than 1,300 gemstones and insane amounts of Thai rubies, it was not the kind of bra you'd find on a mannequin in your local mall.
This year, the fashion show will broadcast on Tuesday, Nov. 28 on CBS, and we can expect even more glamorous clothing and soaring wings, including a special collaboration with fashion designer Balmain. (Yes, that Balmain. The Kardashian one.)
Fans are also jazzed as there is a strong rumor circulating that exes Harry Styles and Taylor Swift will be performing together, which would be like, oh my god, so fun. Sure sure, we've already seen exes reunite on the VS catwalk when Bella Hadid glided past The Weeknd like a silver bird from Heaven in 2016, but it'd be fun nonetheless.
Congratulations, Lais! Everyone else, mark your calendars because the angels are coming!
Check out the entire Gen Why series and other videos on Facebook and the Bustle app across Apple TV, Roku, and Amazon Fire TV.