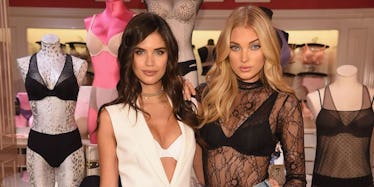 Victoria's Secret Angels Share The One Secret To Posting The Perfect Instagram Pic
Victoria's Secret
In case you haven't noticed, we're living in an age of total model domination -- the likes of which haven't been seen since the 90s when the Cindys and Kates and Naomis still stalked the Earth – and it's wonderful. Elite Daily got the chance to speak with two of the moment's top models, Sara Sampaio and Elsa Hosk, both Victoria's Secret Angels since 2015, about the changing fashion industry, their fashion role models, and, of course, how to take the perfect Instagram pic – hint: lighting is only part of it.
Elsa Hosk, 28, was a professional basketball player in Sweden before she ditched the court for the runway full-time. She told us about what makes a VS Angel a great role model.
I think all of the Angels have really beautiful personalities and we genuinely care about each other and [about] being good role models to young girls. We're all super healthy and take care of ourselves and the people around [us].
Sara Sampaio, 26, cited "great work ethic and persistence," which she knows something about -- having tried out for the VS Fashion Show three times before booking it for the first time in 2013.  She told us,
Never give up. Victoria's Secret Fashion Show was something I worked so hard for and has been a dream of mine for so long. Just always try to stay positive.
Good advice for all of us, even if we're not about to walk in the year's biggest fashion show. But, just out of curiosity, how do you get your body ready for that show? Do sit-ups and ditch carbs until you look like Kate Moss?
Apparently not. In fact, when we asked Hosk and Sampaio about body confidence, both were quick to say that they steer clear of comparing themselves to others.
SS: Everybody is built differently, but don't ever compare yourself to anyone else. It's way more important what's on the inside. For me to stay confident, I just always try to keep a positive attitude and keep up hard work.
EH: There is so much insecurity if you compare yourself to others constantly. In general, comparing yourself to others will get you nowhere because everyone is unique. You have to find an inner confidence. Confidence doesn't come from what you look like; it comes from what's inside.
When asked which women in the fashion industry she most looked up to, Sampaio rattled off three names, all of which were behind-the-scenes fashion ladies whom she revered for their skill and compassion, not their long legs and flat abs.
I really admire [LOVE magazine Editor-in-chief] Katy Grand, [casting agent] Anita Bitton, and [makeup artist] Pat McGrath. I've worked with all of them and they are so successful and still are the nicest people ever. They have an amazing maternal way of dealing with you that as a [woman] in the fashion industry is very important and rare.
See, inner beauty. But back to outer beauty for just a second – what trends can we look out for this fall?
SS: One of my favorite trends is velvet. You can dress it up or dress it down. EH: See-through tops that can show off your underwear or your bra a bit, if you have a nice-looking bra on like the T-shirt Bra from Victoria's Secret!
So, see-through velvet tops and T-Shirt bras for fall -- got it.
Sampaio and Hosk are part of a model moment that counts young superstars like Gigi Hadid and Kendall Jenner among its biggest celebrity voices. These model celebs are finally reclaiming their territory -- on the covers of magazines and as the faces of major campaigns -- back from Hollywood stars. We were curious to hear what Hosk and Sampaio, who have lived through this change, had to say about it.
Sampaio told us,
When I started, models weren't celebrities and didn't have a voice, they only modeled clothes. Now with social media, we are back to having a voice and back on the covers of [magazines], as well as working on big campaigns. People really start noticing us much more which gives us a platform to share what we really believe in.
Hosk, who has been involved with the Washington D.C.-based charity, FAIR Girls, for several years understands what it means to be a celebrity and have a platform.
I work with an organization in Washington DC that rescues girls from slavery and human trafficking and has a program for them when they come back into society. It's been a very beautiful and heartbreaking experience to work with them. It's something that people need to speak out about more because they need more resources.
Almost all of her fellow Angels are similarly involved in charity work. Remind me again of the reason why the women we turn to for advice on taking selfies and buying lingerie shouldn't be the same women who speak out for important charities? In a world where the Kardashians have spoken more constructively about the Armenian Genocide than two presidents in a row, I don't think there is one.
But speaking of advice on taking selfies, we couldn't leave without asking these ladies for the key to taking a great Instagram shot.
SS: The lighting makes all the difference! But I think what's the most important really is being authentic. Show a little bit of who you are, but without giving too much, cause [some things] are supposed to be private.
EH: Light! I would also say authenticity. Also, I think you can feel when a photo is staged or authentic. I think people really respond to photos that feel authentic, like when it's a snapshot out of your real life, when it's a really cool image.
OK so authenticity + lighting = the perfect Instagram pic.
If you're like me, the dirty dishes in the background of your selfies are already giving off that air of effortless authenticity, but you might have to invest in a ring light or move to California for that last part.
After that, all you'll need are about five million Instagram followers, a 24/7 work ethic, and a major injection of gym-motivation juice before the Angel wings just magically appear.
Or at least that's how Hosk and Sampaio make it look, but then again, they're Angels. It's their job to make it all look easy.