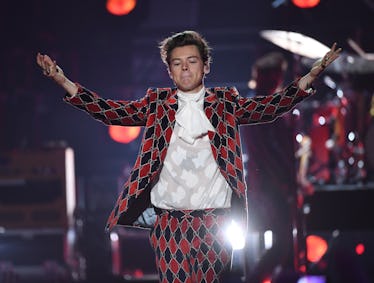 Harry Styles & Taylor Swift May Reunite At A Major Event Coming Up & Fans Can't Take It
Kevin Winter/Getty Images Entertainment/Getty Images
I admit I haven't thought much about Taylor Swift and Harry Styles together in a long time, but those old-school Haylor feels just creeped in again with this new rumor. Is there any truth to the buzz that Taylor Swift and Harry Styles will perform at the 2017 Victoria's Secret Fashion Show? Fans are, understandably, freaking out about the idea of it.
Given the romantic history of Styles and Swift and their breakup (ugh, I can still see Swift looking rejected on the back of that boat after their Caribbean vacation in 2012), the Haylor mania cooled down, but heated up again with every shady song lyric. It's well-known that Swift used that time with Styles for some major song inspo, after all.
But the buzz died down again and it seemed like ancient history between the two. Until now. Somebody got their hands on a document that appears to reveal a Styles and Swift reunion... at the 2017 Victoria's Secret Fashion Show in Shanghai, China.
OK, you've got my attention.
Seventeen first reported on the possibility that Styles and Swift will be performing at the fashion show event after fans discovered a press release from the Shanghai Culture, Radio, Film and Television Administration Bureau that gives all the details. The release includes mention that "Taylor Alison Smith" and "Harry Edward Styles" will each perform four songs on Nov. 20. The Bureau received an application for the performances and requests for permits for the event and the singers.
Nothing has been confirmed about the scheduled performers at the 2017 Victoria's Secret Fashion Show just yet, but that hasn't stopped fans from basically losing all chill over the idea of Styles and Swift sharing a stage.
There was a debate on Twitter over whether or not this information is true, with one person commenting: "Not yet. The Victoria's Secret has not confirmed anything," and another responding: "It's true. all foreign performers come to China to perform must get this first. it was posted on an official website."
That does sound like it's official, but of course, let's not get ahead of ourselves until the Victoria's Secret Fashion Show performers are announced. Then again, you can't keep the fans from getting a little excited.
One tweeted: "Taylor Swift and Harry Styles will be performing on Victoria Secret Fashion Show! Omg!! I dunno if it's legit! P.S My Haylor heart!!!"
Another fan wrote: "So there are rumors of harry singing atthe VS fashion show AND rumors of taylor performing at the vsfs QUWTWRFSHÑVSF my lil haylor heart."
And in case you need a refresher of when they dated (which feels like so long ago, right?), this fan has got it covered:
This fan managed to get a little lyrical love in the mix too, tweeting: "HAYLOR REUNITING TO PERFORM AT VS FASHION SHOW. THEY NEVER GO OUT OF STYLE." I see what you did there.
Another fan doesn't want to get her hopes up, tweeting: "wait, what if the haylor thing at the vs is fake, y'all giving me fake hopes." Hang in there.
Most fans are fully in support of their performances, with one person noting that it's a no-brainer: "TAYLOR IS SO TALENTED. HARRY IS SO TALENTED. THERE WILL BE TWO TALENTED ARTISTS SINGING MASTERPIECES AT THE VSFS AND IM NOT READY."
And this seemed to be a common reaction: "DID YOU ALL SAY THAT TAYLOR AND HARRY ARE PERFORMING AT THE VSFS? REALLY? IS THIS A DREAM? OH MY GOD IM ABOUT TO PASS OUT."
Or this:
Breathe. It's all going to be just fine. If the Victoria's Secret Fashion Show wasn't already a must-watch event though, you'll totally want to tune in for Styles and Swift.
Check out the entire Gen Why series and othervideos on Facebook and the Bustle app across Apple TV, Roku, and Amazon FireTV.