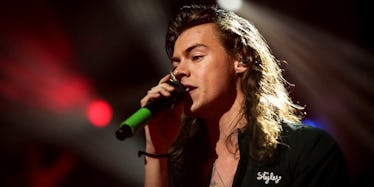 You Can Thank Beyoncé When You Hear Harry Styles Perform One Direction Hits Live
Getty Images
Do you still hum "What Makes You Beautiful" in the shower? Is your go-to karaoke song a haunting rendition of "Night Changes"? Well, there's about to be a much, much needed fix for all of your boy band needs. Harry Styles will perform One Direction songs during his first solo tour – and we actually have Beyoncé to thank for that.
In 2016, One Direction went on hiatus, and teens all of the world – and some of us, errmm, slightly older than that – were devastated. Thankfully, Styles (in all his dimpled glory) didn't leave fans hanging for too long. He released his album "Sign of the Times" in May, and is now embarking on a worldwide tour from Sept. 2017 through July 2018.
Turns out, though, that there were some conflicting conversations over whether or not the pop singer would sing One Direction songs live. Styles' music director Tom Hull told Rolling Stone,
At first, he was definitely cautiously up for it. I feel like those [One Direction] songs are brilliantly written songs, and obviously it was a moment where we had a conversation. Beyoncé does Destiny's Child songs, so we were like 'Let's do some of the songs that people will all know and everyone will love.'
Can we just get a giant amen for Beyoncé right now?
In his first few tour stops, Styles performed some of the old hits, including "What Makes You Beautiful," and, as evidenced by footage below, the crowd went WILD. He also sang some non-One Direction songs that he had co-written, like Ariana Grande's ballad "Just a Little Bit of Your Heart."
In the end though, Hull said that this is Styles' moment to express his true musical self – without trying to merge tastes with four other band members.
"That was the hard thing, I think, in [One Direction] before," he explained. "You've got a bunch of lads who all have different tastes in music and have their own personalities. Obviously it's clear they've all done something different [as solo artists]."
Okay so if you're still pining for 1D and not taking too kindly to the whole solo career thing – there's definitely a hidden upside to it all. Now that Styles is writing and performing his own music, he's giving a much, much more intimate look at his personal life. And it'll be way more revealing than those pictures of him and Taylor Swift walking through a park in 2012 (or those ones of him on the boat with Kendall Jenner...not that I've been googling that stuff or anything).
Styles told Rolling Stone in April that his primary goal is paint a candid picture of himself. He said,
I didn't want to write 'stories.' I wanted to write my stories, things that happened to me. The number-one thing was I wanted to be honest. I hadn't done that before.
But don't expect to get everything out of him. He added,
With an artist like Prince, all you wanted to do was know more. And that mystery – it's why those people are so magical! Like, fuck, I don't know what Prince eats for breakfast. That mystery  ...  it's just what I like. I like to separate my personal life and work. It helps, I think, for me to compartmentalize. It's not about trying to make my career longer, like I'm trying to be this 'mysterious character,' because I'm not. When I go home, I feel like the same person I was at school. You can't expect to keep that if you show everything. There's the work and the personal stuff, and going between the two is my favorite shit. It's amazing to me.
Okay, that sounds great. We will gladly take what we can get. Plus, maybe a Beyoncé cameo at some point? It just seems like the right thing to do.