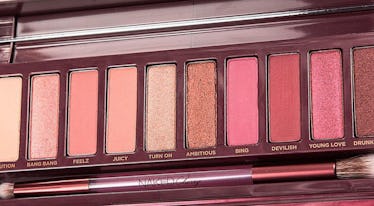 The Urban Decay Naked Cherry Palette Swatches Have Me Ready For Warm, Smoky Eyes This Fall
I'm all for scrolling through lewks upon lewks done by the talented beauty gurus that take up most of my Instagram feed, but if I'm honest, nothing gets me going like a good old-fashioned swatch shot. Seeing products — palettes, especially — cleanly swatched into parallel lines really helps me get a feel for their color stories and helps me brainstorm future lewks of my own. It's also a great way to gain clarity on the pigmentation and finish of a palette's shades. And if the Urban Decay Naked Cherry Palette swatches are any indication, I've got a new warm-toned favorite on my hands.
When rumors first started flying about the newest of the Naked palettes, Naked Cherry, some found fault with the shade range, whether it was critiquing the brand's choice to not include a cherry red, or comparing the palette to other UD favorites and deeming the colors to be nothing new. Personally, I've been holding out to let the swatches speak for themselves, and now that I've laid my eyes on them, I've reached my conclusion. It's true: While the palette may not be groundbreaking, it's still absolutely gorgeous nonetheless. The warm red, brown, and pink tones create an autumnal dream of a color story, and TBH, I can't wait to try it out on my lids for myself.
As a big fan of a light transition shade and shimmery lid paired with a bright brow bone and darker outer third, I'm thinking the first four shades in the palette ("Hot Spot," "Caution," "Bang Bang," and "Feelz") will be a great recipe for a warm-toned neutral, everyday fall eye look. Overall, the swatches look smooth and pigmented, and there's a good ratio of shimmers to mattes.
The swatches may prove the formulas meet Urban Decay's impressive high standards, yes, but the colors themselves still aren't winning some fans over. "I had high hopes for this...," begins one disappointed user's comment. "Smashbox came out with a Cherry Smoke palette years ago and it was amazing. This... well... I want to love it but, I feel like i have this in a similar palette somewhere."
"I like some of the names more than the shades themselves, wtf 😂😂😂" commented another user, and though they most likely wrote this with shade intended, it is worth noting how cute the shade names are. Along with the aforementioned four, the palette includes cheeky shades such as "Juicy," "Turn On," "Ambitious," "Bing," "Devilish," "Young Love," "Drunk Dial," and "Privacy." It's safe to say I'll be smoking out my lower lash line with "Drunk Dial" before any and all happy hours I attend from here on out.
While some were hard on the stunning-yet-safe shade range, many commentors were just excited to get their hands on yet another Naked palette for their collections. "I'll definitely be picking this up!" declared one proud commentor. "The swatches just sealed it for me. I love these kinds of colors and Urban Decay is my favorite eyeshadow formula. I know a lot of people disagree but to each their own ❤️🍒." I'm loving the positivity!
For those who dislike the palette but want in on the cherry trend, there's good news: According to a recent Instagram post by the brand, there will be an entire Naked Cherry Collection — swipe through above to drool over all the newness.
Along with the eyeshadow palette, the Naked Cherry Collection will include three lipsticks, a cherry-scented finishing spray, two eyeliners, and a cheek palette. Surely, even the most particular shoppers can find something lust-worthy in this lineup, and I'll be making my decision on which items to snag when the rest of the collection's swatches are released (hopefully) soon.