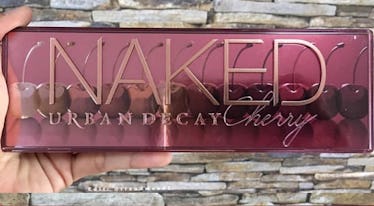 Urban Decay's Naked Cherry Palette Just Leaked, But Fans Think One Major Thing Is Missing
Out of the hundreds (thousands?) of makeup palettes ripe for the choosing, few have become quite as iconic as those in Urban Decay's Naked collection. What began as one simple palette boasting neutral shades and shimmers has expanded into a multi-product collection featuring some of the best makeup of all-time — so it's no surprise that UD plans to keep expanding. Beauty lovers weren't sure when we'd be treated to the next Naked palette, but according to the social media, Urban Decay's new Naked Cherry Palette may be the official new must-have.
The reason rumors of a new Naked palette are exceptionally exciting at this moment in time is because they come just a few days after Urban Decay announced they would be discontinuing the original Naked Eyeshadow Palette ($27, originally $54, urbandecay.com). The announcement was so majorly upsetting that the brand even held a funeral for the palette, where Nicole Richie gave an ~emotional~ eulogy, hailing the palette as "the OG." "Everyone has tried to copy you, but no one has been able to capture your true essence," she declared, and thank goodness for waterproof mascara because I might have actually been a little emotional?
Real talk, though: For many, the Naked Palette was the product that launched a love of makeup that has remained strong to this very day, so it really is a shame to see a real one like her fade away. But that doesn't mean the brand intends to slow down launching more fab products, especially when it comes to the Naked collection itself.
When beauty insider account @Trendmood1, run by beauty-lover Sophie Shab, shared a leaked image of UD's rumored latest creation, the beauty community was shook, to say the least.
The leaked photos of the rumored new palette feature the classic Naked Palette setup we've come to know and love — 12 rectangular pans accompanied by a dual-ended brush. However, it seems UD has yet again created a brand new color scheme in shades of pink, crimson, and burgundy. The Naked Cherry Palette looks absolutely delectable, IMHO.
There's just one minor detail that fans picked up: Even though the theme of the palette is cherry, a red fruit, there isn't a single true cherry red shade in the lineup, and Twitter is not having it.
One beauty-savvy Twitter user even pointed out the similarity of the shade ranges between the rumored new Naked Cherry Palette and another of UD's recent releases, the Backtalk Palette ($46, urbandecay.com)
And while we're at it, let's note that it's also not dissimilar to the brand's fairly new Aphrodisiac Palette ($29, urbandecay.com). Just sayin'.
Personally, I think the Naked Cherry Palette looks gorg and fall-ready, but the Twitter-verse has a point about the shades. We want a red!
If you can get past the name, the palette itself really is quite nice, and it's reassuring to see that the death of the original Naked Palette doesn't mean the end of UD's Naked Collection overall. And while red-lovers might not be pleased, the palette is great news for anyone who loves a good pink.