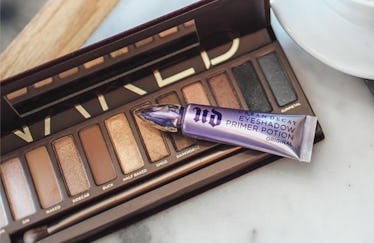 Urban Decay Has Begun Sharing Untouched Images On Instagram, Because Perfection Isn't Reality
As much as many of us love social media, the truth is that it can sometimes be a bit of a toxic space. If we aren't being bombarded with updates about our old high school classmates' seemingly flawless lives on Facebook, then we're getting ambushed by how beautiful and "perfect" everyone appears to be on Instagram. But the truth is, that isn't reality. Thankfully, in the past few days, cult-favorite beauty brand Urban Decay started sharing untouched photos of popular influencers in the beauty space on their Instagram feed, proving that, even if you love makeup products, perfection isn't something you need to strive toward.
On Aug. 11, Urban Decay posted a photo of self-taught makeup artist @glowawaymeg to their feed, with her natural skin and pores on full display. Looking at her own page, it seems as though the beauty expert is definitely not shy about showing off her "real" skin — "flaws" and all. The following day, Urban Decay shared a photo of fellow MUA Linda Hallberg, who boasts nearly 900,000 followers on her own page. In this photo, Hallberg's pores, freckles, and fine facial hairs were showcased. Needless to say, both MUAs look absolutely stunning. Of course, fans immediately noticed the difference between these photos and others that were edited to portray smooth, pore-less skin.
"Shout out to those freckles!" one person said in praise of Hallberg's photo. "I love seeing real skin, don't get me wrong full coverage is great, but I look at this and I'm like yass queen that skin is lit!"
"Her skin!!! It looks like real skin!" another user said about @glowawaymeg. "The eye look is pretty too, but her skin!!!!!!"
According to a 2017 survey by the Royal Social For Public Health, out of a total of five social media platforms, including YouTube, Twitter, Facebook, Snapchat, and Instagram, Instagram was reported as the worst platform when it came to user's mental health and wellbeing. "Instagram easily makes girls and women feel as if their bodies aren't good enough as people add filters and edit their pictures in order for them to look 'perfect,'" one anonymous respondent noted.
Model Iskra Lawrence also spoke to Cosmopolitan about her concerns with the app back in January 2017. "It is so much scarier than magazines," the 27-year-old said. "At least most people realize that magazines and campaigns have been airbrushed. But young girls are looking at selfies on Instagram and they're not realizing that some people are using apps to totally change what they look like."
This is why it's so important for brands like Urban Decay to continue putting untouched photos on display. While, of course, there's nothing wrong with enjoying the power of beauty and makeup, it's a major disservice to women, girls, and anyone else who see incredibly photoshopped images to present them as though they're reality and what people should strive toward. Truthfully, no one should be trying to be perfect. Instead, we should all just focus on feeling like our best selves.