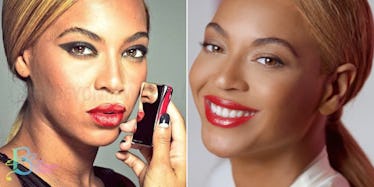 You'll Bug The F*ck Out When You See Beyoncé Without Photo Retouching
L'Oreal
We might all think Beyoncé stands high above us mere mortals, that she is not of this earth.
But, the fact of the matter is Queen B is a human being just like the rest of us. And human beings have flaws, whether we'd like to admit them or not.
Keeping that in mind, unretouched photos of Bey from a 2013 L'Oreal ad campaign have made their way onto the Internet.
People out there seemed to be shocked and awed by these pics as they feature Beyoncé in a less than perfect light.
That's only because whenever we see images of Beyoncé or any other celebrity these days, they are almost always airbrushed and Photoshopped. Those images are unrealistic; they're illusions.
But, these leaked photos show a side of Beyoncé we rarely get to glimpse: the human side. I think there's something beautiful about that.
Check out the undoctored photos here, courtesy of The Beyoncé World.
Here are what some people in the Twittersphere are saying about these photos:
She looks like a cigarette smoker RT @FeimM: omg is she going to sue them for leaking these? pic.twitter.com/PJ3yR29oBC — GlassTop-Scrooge (@MackNSweetJones) February 18, 2015
that's beyonce? oh wow. pic.twitter.com/kU8iMIx9VF — Shover Todd (@Smooth_Orator) February 18, 2015
lol, you know why Beyoncé looks kinda shitty in those leaked l'Oréal pics tho? shitloads of makeup + strong lighting. she's still beautiful. — sophie mallinson (@glietzsche) February 18, 2015
I don't care for Beyoncé but I'm glad those pictures leaked. She's an actual person & it's deceiving of the media to retouch for perfection — Cisco Kid (@kickass_bonet) February 18, 2015
Idk why yall surprised over these leaked untouched pictures of Beyonce. She's human lol she is going to age, get pimples, etc. — Buzzing BRI. (@__Briella) February 18, 2015
This is what the actual ad campaign looked like:
Citations: The Internet Is Freaking Out Over These Unretouched Beyonce Photos (Complex)