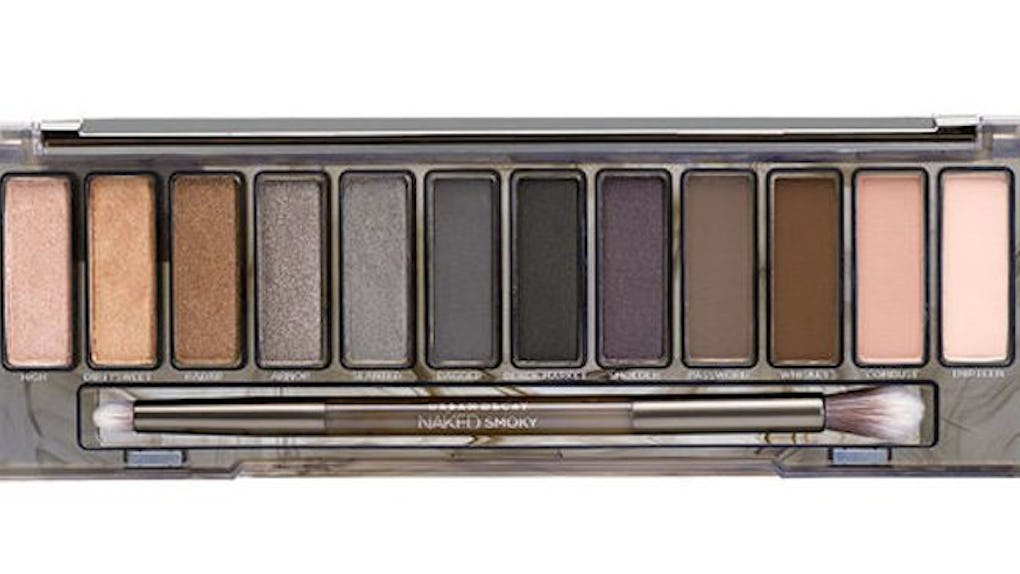 Courtesy of the brand
Urban Decay's Naked Smoky Eye Shadow Palette Is On Final Sale & May Never Come Back
I don't mean to alarm you on this fine afternoon, but a beauty all-star is rumored to be heading into retirement. According to a tragically foreboding press release from Urban Decay's public relations team, the Urban Decay Naked Smoky Palette "won't be around for much longer." Cue a mascara tear —preferably of the brand's new Troublemaker variety, mega-volumizing, packed with nourishing ingredients like vitamin E and alleged to stay put during sex. But enough on that. This is about Smoky.
Certainly, every iteration of the OG Naked palette is a home run in a sold-out stadium, but the series' fourth holds a special place in my heart. Released two years ago to roaring applause, Smoky's shades — from rich-brown Whiskey, to shimmer-grey Dagger, to matte-taupe Password — help me seduce total strangers and impress fellow makeup addicts alike. When a giant cyst forms unceremoniously on my chin, gunmetal plum Smolder draws all the attention to my eyes. Don't even get me started on how helpful the enclosed lookbook — brainchild of brand founding partner and all-around badass Wende Zomnir — is when getting ready slightly buzzed. The twelve-hue lineup of smoky eye special sauce is a total clutch player, boasting fans of every skin tone, including celebs from Jordin Sparks to Diane Kruger.
To honor its storied career, Urban Decay is offering a silver lining to this shadow swan song. Starting August 24, you can score (no, STEAL) Smoky at all UD retailers, both online and in-store (even Sephora and Ulta; hell yeah) at half off its usual $54, for a mere $27. Can you say, "Hate to see you go, but love to watch you leave?"
So whether you've never tried it, it's a Saturday night-staple, or it's simply on your roster, I recommend scooping up a discounted palette pronto. Then, raise the included double-ended brush to Smoky (the palette, not the bear) — it may be gone, but never forgotten.