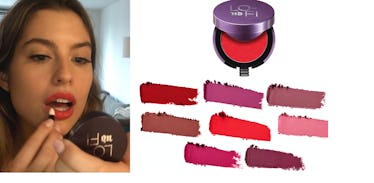 Urban Decay's New Lip "Mousse" Feels Like Whipped Cream & Looks Absolutely Divine
Sophie Wirt/Urban Decay
Between matte lipsticks, lip tints, lip stains, glosses, and balms, there are so many finishes and textures to choose from when it comes to buying lip products. Personally, I thought I was over the matte lip trend — but after embarking on this Urban Decay Lip Mousse review, I'm rethinking lipstick for good. Allow me to explain this new lippie (trust me, it's pretty much the opposite of intuitive!).
Upon first glance, my initial reaction was — oh, Urban Decay is revamping its classic single eyeshadow tubs. Yes, this lip product literally looks like an eyeshadow single. It's round and pigmented and cushy. Another comparison: I showed the image to a friend, and she asked if the products were blushes. She has a point — the shades range from plummy to coral, and could totally work as a cream blush, IMO. But nope, these babies are lip products through and through!
There are eight shades to choose from — and it's hard to choose a fave because they're all pretty darn divine. As per a particularly mesmerizing image the posted to the 'gram, (above) I officially want every. single. color. The brighter colors are perfect for summer, but UD's got you covered for fall, too, thanks to the burnt orangey reds and plums. Mm.
Shades aside, the formula itself is incredibly versatile, and can be applied in a myriad of ways. The pots come with little sponge-tipped applicators, which can give you a sharp lip line and tons of pigment. Incidentally, the applicators look like those sponge-tip eyeshadow applicators that sometimes accompany eyeshadow palettes. But unlike those sponge-tip applicators (which inevitably seem to go missing at some point), you're guaranteed not to loose this one, thanks to a handy-dandy pop out storage slot. (See below.)
If magical applicators are not your thing, feel free to use your fingers to dab on a little bit. The result: a flushed, your-lips-but-better pout. (Ideal for those of us who like to look like we spent the day eating popsicles and not hunched over our desks.)
While this formula is creamy, it's not sticky, smudgey, or otherwise difficult to wear. It has a soft whipped feel that can be built up to reach your desired level of pigment... or pared down for a super #trendy, blurrier look. The formula imparts a "modern matte" finish — which is to say that, yes, it dries matte, but it never looks — or feels — cakey. In fact, shortly after applying this stuff, I'd totally forgotten that I was wearing any kind of lip at all.
Additionally, this stuff is waterproof — so it's perfect for all the beach days and pool parties you plan to hit up this season! (I have yet to wear it in either of those locations, but it did withstand a sweaty subway ride in NYC — and that's basically the same thing, right?)
As someone who has been opting for glossy lip looks lately (current fave: Lipstick Queen Reign & Shine glosses), I am happy to report that this lil lip pot from Urban Decay has restored my obsession with matte lips — at least soft, super-flattering matte lips. For the sake of context, I wish I could compare it to another product I've tried... but honestly, this one is kind of in a league of its own.
My absolute fave hue so far is the bright orange shade, "Frequency." (In my humble opinion, it's an absolute must-have for anyone who enjoys rocking a red-orange lip.) Plus, while this stuff is definitely not a blush, I have experimented using it "off-label" and smudging a little bit on my cheeks — which actually works for creating a monochromatic lip and cheek look in a pinch.
Starting July 13, you can snag the new Urban Decay Lo Fi Lip Mousse for $22 at Sephora, Ulta, and Urban Decay's website. Lip mousse: the beauty product you never know you needed.