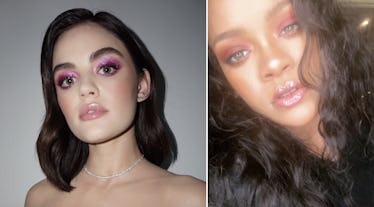 Everyone Is Wearing Hot Pink Eye Shadow & Not Just On Wednesdays
Instagram - Lucy Hale/ Rihanna
When it comes to beauty looks that've been championed by celebs, models, bloggers and the like as of late, there's one that stands above the rest, imho. As someone who wishes she could see everything with a rosy disposition, the 2018 pink eyeshadow trend is my favorite new beauty look for both its edgy-sweet appeal and '80s-inspired look. Taking shape in many different ways, from smudged neon liners to glitter-laden lids, it's certainly not subtle. But then again, would you want it to be?
At fall 2018 Paris haute couture fashion week, which took place a few weeks ago, pink shadow was absolutely everywhere. Models with rosy ringed eyes took to the runways at Giorgio Armani Privé, Christophe Josse, Ralph & Russo, and more, proving that the look isn't relegated to warm weather months and will likely be widespread come fall. (Runway beauty trends have a way of trickling down into the mainstream, no matter how extreme.) Some celebrities, makeup artists, bloggers, and the like are already testing out the trend and proving that no matter how you do it, you're going to make one helluva statement in the best possible way. Of course, if you prefer a more subtle powdery pink in minimal amounts, that's totally cool. But bold, bright, brilliant eyes in various iterations of the cotton candy hue seem to be the preference du jour. Scroll down to see some of the best pink eyeshadow inspiration looks.
Go Glittery Or Go Home
Lucy Hale is fearless when it comes to trying new beauty looks, as exemplified bu this absolutely dazzling deep pink eyeshadow look. I'd love to rock it to a festival with a crazy co-ord or to my birthday party with a minimalistic LBD. To achieve the look, Hale's makeup artist, Kelsey Deenihan, used a combination of Kevin Aucoin's Pure Powder Glow in Myracle ($30, Amazon), Kyrolan's Pure Pigments Metallic in Magenta ($19, Kryolan), Urban Decay's Full Spectrum Eye Palette ($34, Nordstrom Rack), and Too Faced's Chocolate Gold Eyeshadow Palette ($49, Too Faced).
Neon Dreams
Eye-poppingly bright, this iteration is all about the smudged and the vivid. Marc Jacob Beauty's Highliner in Lollipop ($25, Marc Jacobs Beauty) was used to achieve the look, which is 100 percent DIYable. Swipe some of the liner along the crease on your upper lid, getting it a bit thicker at the outside corner. Smudge some into your lash line on the bottom. Then, take a clean eyeshadow brush and lightly go over the liner on your upper lid only, allowing it to smear slightly. When it comes to low maintenance beauty, this look wins top prize.
Baby, Baby
If you want something a bit more subtle, opt for a shimmery baby pink. Sweep it across your lids and apply a light coat of mascara for a look that screams mid-aughts, but tastefully. If you want to amp up the look a bit pair it with a bright red lip.
Bottom's Up!
When doing Millie Bobby Brown's makeup it's only appropriate to reference the Upside Down, right? Also by Deenihan, this stunning look features high-pigment pink shadow under each of Brown's eyes, while the upper lids appear to have been swept with a shimmery white powder. Note that Brown's upper eyelashes are black, while her bottom lashes are a matching pink hue! If you have blue or green eyes this technique will make their colors pop. Try Makeup Forever's Artist Eye Color in Neon Pink ($17, Sephora).
Check out a few more photos of ace pink lids below. The trend has been rocked by everyone from Rihanna to Selena Gomez, so you know it's a winner:
Which shade will you choose?