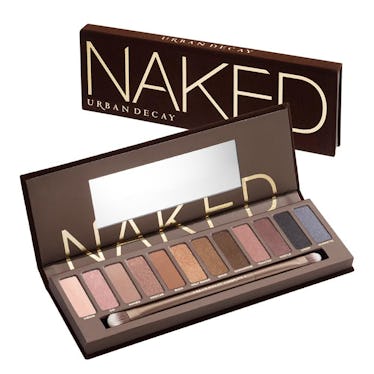 Urban Decay Is Discontinuing Their Original Naked Eyeshadow Palette, So Excuse My Tears
Urban Decay
It is a sad day for beauty lovers everywhere, and for many of us, life will never, ever be the same, because Urban Decay's Naked Palette, an eyeshadow palette loved by so many, is saying goodbye — for good. If your jaw just dropped to the floor, that's OK, because mine did too when I first heard the news. The legendary palette was first launched back in 2010, as the brainchild of Urban Decay founding partner Wende Zomnir, and has made over $1 billion in sales since — being dubbed "the iPhone of makeup" by Forbes.
Allure remembers the beloved palette as "one of the best-selling, best-known, most-copied, most-spun-off eye shadow palettes in the history of eye shadow palettes." But despite it being a natural — and neutral — star of the beauty world, Urban Decay believes now's the time to say a final goodbye to the iconic product.
"A little bit naughty, often dramatic, and always in the press, the innovative game-changer and category creator will be laid to rest after eight years, without a smudge of regret," the company said in a statement. "Passionate Naked collectors — and pretty much anyone with eyes — will remember Naked as the beauty product that changed their lids forever. It was beautiful and mythical and millions of superfans, from misfits to moms to models, will miss Naked from Virgin to Gunmetal."
The company even held a funeral for the palette, which they said took place in Newport Beach, CA on Aug. 23. Influencers like Kandee Johnson, Christen Dominique, Katy DeGroot, Shay Mitchell, and Chrisspy were all there to pay their respects to Naked, while the eulogy was read by Nicole Richie.
"Saying goodbye to Naked is extremely bittersweet," Zomnir shared in a statement. "It was a big moment in our history. It's a little painful to leave your past behind, but it's also essential to always evolve. I will forever miss Naked, but we plan to turn the grief into even more greatness. Urban Decay will continue to thrive in Naked's memory and honor — just wait and see."
Of course, nothing has been confirmed just yet, but Zomnir's message sounds like Urban Decay has something up its sleeves. We will all have to wait and see until then, but I'm super excited for a possible future announcement.
And while there will never be another palette quite like Naked, there are still a few other products on the market that may be able to carry you through this difficult time of mourning. Yes, yes, I know it's not the same, but please try to be strong as you look through the list — you may end up being pleasantly surprised.
Reliable and affordable are two words I'd use to describe NYX products. And just like Naked, you can also get this product engraved for an additional $2 to add a personal touch to your latest palette.
While it may not have as many colors as Naked, the pigment in Smashbox's palette is simply out of this world.
Offering both matte and shimmering shades, this palette can be used at any time, day or night, to give your eyes a natural pop for less than the original price of Naked.
Get all the colors you crave, plus a deluxe sample of 24 Hour Photo Finish Eyeshadow Primer to keep your eyeshadow looking its best all day long.
But if you'd rather just stack up on Naked while you still can, the good news is that both the original Naked Palette (originally $54; sale $27), plus Naked Basics Eyeshadow Palette (originally $29; sale $19) are currently discounted at urbandecay.com, so hurry up and get yours now! And thankfully, while the original may be leaving, it seems like Naked 2 ($54, urbandecay.com), Naked 3 ($54, urbandecay.com), as well as Naked Heat ($54, urbandecay.com) don't seem to be going anywhere — fingers crossed!