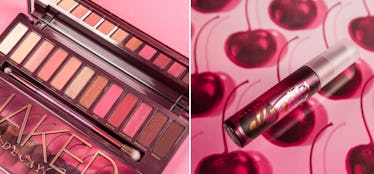 Urban Decay's New Naked Cherry Collection Is Fall Vibes To The Max, So Prepare To Swoon
Urban Decay
The last couple of weeks have been a straight-up emotional rollercoaster, all leading up to the launch of Urban Decay's Naked Cherry Collection. First, the brand dropped a major bomb on us: It would be discontinuing the beloved Naked eyeshadow palette. *Insert ominous thunder roar and lighting strike here.* She was a good palette — packed with all the neutrals a beauty junkie could ask for — so good in fact, Urban Decay hosted an actual funeral for the OG. In true over-the-top Urban Decay fashion, the palette was laid to rest in a viral video that included a eulogy by Nicole Richie and appearances by influencer fans such as Kandee Johnson and Chrisspy.
Then, in an unsurprising turn of events, a new Naked palette was leaked. To be honest, I sensed a new launch would be coming, but I didn't expect it a week after the discontinuation of the original Naked palette. However, the leaked info went unconfirmed for days, and details of the "launch" got slightly confusing. YouTuber Elle S was the first to share photos of the Naked Cherry palette and packaging, and even swatches, but the biggest brain bang was that it was only available in Thailand. I personally wasn't sure if this was one of those overseas launches that we'd never get to experience first hand, or if Thailand was just early to the release.
Even the Instagram account TrendMood was confused by all the seemingly legit photos, and you know it has its finger on the pulse of launches from every brand.
And finally on Sept. 4, Urban Decay confirmed the launch of the eyeshadow palette on its Instagram, and even previewed a slew of additional items that will fall under the Cherry collection. The caption reads, "Yep, she's legit — swipe to check out the full sultry collection and stay tuned for more juicy details 🍒😛👉 #UrbanDecay#NakedCherry#Makeup#Beauty#NewMakeup."
Just in time for fall, the Urban Decay Naked Cherry palette is packed with shimmery peach shades, burnt cherry hues and deep browns — all perfect for creating moody looks for the cooler months to come. And with shade names like "Turn On," "Young Love," "Devilish," and "Privacy," it fits in with a roster of sexual innuendos that Urban Decay is known for.
To complement your eyeshadow, Urban Decay is also releasing two more eyeliner shades: a shimmery black and a dark cherry burgundy.
Additionally, the brand is launching three lipstick shades: A dark cherry color, a shimmery pinky red, and a shimmery pumpkin spice looking shade. Literally, this collection is fall vibes to the max.
If you thought the Naked Cherry eyeshadows were the only palette in this collection, think again. You can also expect a face palette loaded with two highlighter shades (one warm and one cool tone) and a peachy blush.
Even the fan-favorite All Nighter Setting Spray got a makeover. The mini bottle is decorated with the cherry motif and gold font on a deep red bottle. And it looks like the bottle might say "scented" on it. Now if this can make my makeup last all day long and smell like cherries, this alone was worth the emotional rollercoaster ride of the past few weeks.