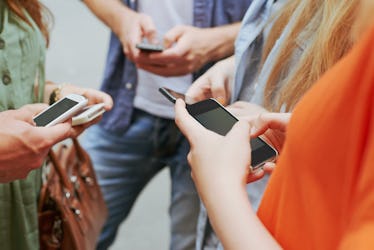 The Busiest Day For Online Dating Is This Sunday & Here's How To Make The Most Of It
With mistletoe, holiday parties, and midnight kisses behind us, you're probably thinking the chance for winter romance and hopes of snagging a cuffing season companion are done and gone. But hold the phone, you guys — the busiest day for online dating is actually this Sunday, Jan. 5, so get freaking ready.
According to online dating platform Match, usage is expected to reach record highs on Jan. 5 — appropriately dubbed "Dating Sunday" — with new users spiking by 80% (a rate that's doubled over the past two years). Expect this surge right around 9:15 p.m. EST. It's like the full moon of the dating world, but with singles instead of werewolves.
Representatives for dating app Coffee Meets Bagel tell Elite Daily that over a million messages were sent on the app on Dating Sunday 2019. Zoosk is projecting that about 1.5 million messages will be sent in the U.S., and Bumble is expecting up to 20 million. NBD!
Dr. Alexandra Solomon, a licensed clinical psychologist who studies sex and relationships, has a few theories about why dating app activity reaches an all-time high on Dating Sunday. "Because the holiday season involves a lot of socializing and being around couples and families, people who are single may feel inspired to become a bit more active in their search for love," Solomon tells Elite Daily.
Apart from January being a time to reflect on where you've been and where you want to go, Solomon says, "We are most likely to fall in love during times of transition or flux, and January is a time of new beginnings. Dating may spike because our collective consciousness is tilting toward openness and possibility."
Besides, Solomon adds, the colder weather means people are more likely to stay in and be cozy, "making it easier to devote time to swiping and messaging." Whether you're hoping to find a serious relationship, trying to lock down a Valentine, or just aiming to put yourself out there more in 2020, the first weekend of the year is undoubtedly the best time to start swiping away and looking for love (or lust). Here are five ways to make the most of this dating phenomenon and kick the new year off on an exciting note.
Send The First Message.
With usage at an all time high, now is definitely not the time to be shy or coy. You've got to make yourself stand out from the crowd of singles, so don't be afraid to break the ice and send the first message. Before diving into the deep questions, try breaking the ice with a hilarious pick-up line or commenting on one of their eye-catching photos. In a sea of repetitive "Hey" messages, your match will definitely appreciate the thoughtful conversation-starter.
Swipe Right. (Like, A Lot.)
It's simple: the more often you swipe right, the more matches you'll get, and the more likely you are to hit it off with at least one person. Don't feel like you've got to swipe right on everyone, but don't write off all potential matches who have a few too many mirror selfies or lack a super clever bio. Maybe this is the year to branch out and try dating someone who's not at all your type.
Update Your Photos.
New year, new you, new dating profile pics. Ditch the four-year-old photos and add some pictures that authentically look like you and speak to your personality. One tip from Melissa Hobley, OkCupid's Global Chief Marketing Officer, is to take advantage of your phone's portrait mode. Photos with shallow depth-of-field have been shown to score OkCupid users more likes. Hobley also suggests standing in that glowy, golden hour light.
And last but not least, caption everything. "Adding a caption to your photo gives potential matches a little more context — not to mention a possible conversation starter," Hobley tells Elite Daily. With everyone swiping away, it won't hurt to give potential matches a sense of who you are right off the bat.
Go For The Upgrade.
If you're serious about taking advantage of Dating Sunday, consider splurging on a dating app upgrade like Tinder Plus or Tinder Gold. Unlimited likes, five Super Likes a day, the chance to rewind a swipe, and connect with hotties around the world via Tinder's Passport feature? You'll basically be dating app royalty. Check out Bumble Boost and Hinge Preferred for two more great options.
Talk About Climate Change.
No, climate change isn't sexy, but a civically engaged hottie is. Over the past two years, OkCupid has seen a 240% increase in "climate change" mentions, as well as other environmental terms. There's been an 800% increase in "Greta Thunberg" mentions on people's profiles, too. Why not invite your dating app match to grab milkshakes or iced coffee with some sleek, reusable metal straws? Or, you know, suggest watching environmental docs at 1 a.m. for some sustainability and chill?
If you're not quite ready to swipe this Sunday, you still have a solid week to polish up your opening lines and prepare to shoot your shot. The Sunday after Dating Sunday was the second largest day for messaging in 2019, according to stats from Coffee Meets Bagel.
Whether your New Year's resolution is to meet a gorgeous stranger or finally settle down with a boo, go forth and swipe! This Sunday is your time to shine.
Experts:
Alexandra Solomon, Ph.D., licensed clinical psychologist and author of "Taking Sexy Back: How to Own Your Sexuality and Create the Relationships You Want"
This article was originally published on