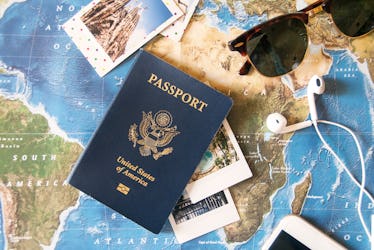 Tinder Passport Helps You Meet New People No Matter Where You Are
If you've ever swiped through Tinder and spotted a user's profile that appears to be hundreds or thousands of miles away (even though your preferences are set to only show you people within a 10-mile radius) , they're probably using an exclusive feature available only to Tinder Plus subscribers called Passport. What is Tinder Passport? Well, think of it like a real-life passport you'd use at an airport — it gives you access to anywhere you'd want to go.
Why is Passport useful?
Passport gives users the option to set their location anywhere in the world and swipe as if they're really in that place. A user in Denver might scope out the singles scene in Miami in advance of their upcoming vacation, or a user in Los Angeles might start swiping in their tiny Ohio hometown before heading back for the holidays. A person could start swiping in New York from the Dallas airport, match and chat with people using in-flight WiFi, and have a date lined up for that very night before their plane even touches down on the East Coast.
Passport changes the swiping game for travelers, and it's especially useful for anyone who goes to school or works miles away from their hometown. And if you're planning to study abroad, you can stock up on overseas hotties now, so you'll already have a potential pool of friends and dates for when you finally arrive.
How much does it cost?
Passport is part of a suite of cool features only available to Tinder Plus subscribers. (Other features include the ability to re-do your last swipe if you messed up, match with an unlimited number of people, hide ads, get extra Super Likes, only be shown to people you've already liked, and more.)
The monthly membership costs $9.99 if you're under 30 and $19.99 if you're over 30.
How do you sign up and change your location?
According to Tinder's FAQ, here's how to access Tinder Plus:
To subscribe to Tinder Plus, just tap the icon on the top left-hand corner of the main screen, select 'Get Tinder Plus', and follow the instructions. Note: You can cancel your Tinder Plus subscription at anytime.
And here's how to switch up the location you're swiping in:
Tap the profile icon at the top of the main screen. Go to 'Settings' or 'App Settings.' Tap 'Swiping in' (on Android) or 'Location' (on iOS). Select 'Add a new location.' Type a location, select it from your search results, and when a pin appears, tap the blue banner to start swiping in this location.
So go forth and swipe way, way outside of Tinder's standard 100-mile radius. There's no need to let your current location limit whom you could possibly meet.
What do people really think of Passport?
Just saying, it completely changed the course of these people's lives forever: While deployed in Afghanistan, a Tinder user named Chris Sacoco was using the Passport feature when he met the woman he ultimately married. This past summer, they found out they're expecting a child together.
And even if you're looking for something a little more casual than, you know, marriage and children, Passport has you covered. It's just a whole lot of fun.
How does that saying go? The grass is always greener on the other side, and Tinder users are even hotter in other cities? Yeah, something like that.
Check out the entire Gen Why series and other videos on Facebook and the Bustle app across Apple TV, Roku, and Amazon Fire TV.
Check out the "Best of Elite Daily" stream in the Bustle App for more stories just like this!