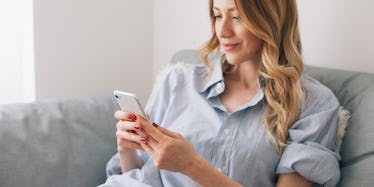 Tinder's New Feature Shows You Who's Already Swiped Right On You Before You Start Swiping
Feeling a liiiittle shy about sending out those Tinder likes to people who may or may not like you back?
Well, it's OK, ya big, shy baby. Tinder has a new feature that might put some of your insecurity to rest.
The feature is called "Likes You," and it's pretty self-explanatory.
Basically, it lets you see how many likes you have on that same screen where you usually just see your matches, according to Mashable. The people who have already swiped right on you will have a gold heart on their profiles, and it's up to you whether you want to "auto-match, dismiss, or read more about each person."
Likes You is part of Tinder's new ~exclusive~ members-only feature called Tinder Gold. In addition to the Likes You feature, you also get "five Super Likes every day, one Boost per month, unlimited likes, and other features like Passport, which lets you change your location, and Rewind, which lets you undo a mistaken swipe."
So... yeah, that sounds like a lot of cool features.
If you're AMPED about the new souped-up Tinder, I'm sorry to say that you're going to have to wait it out a bit if you're in America. The feature will be tested in Argentina, Australia, Canada and Mexico soon. But don't fret if you live elsewhere. Tinder HQ hopes to make this option available to all users shortly after that.
Tinder's Chief Production Officer Brian Norgard told TechCrunch he sees the new feature as a way for users to more efficiently be spending their time: "Likes You builds on previous features like Boost to help users optimize their time — and go from matching in app to getting together in the real world."
Like most good things in life other than maybe sex (most of the time) and hugs from your mom, Tinder Gold doesn't come for free either. While Tinder hasn't officially released the price of the service just yet, Cosmopolitan reports that it will cost slightly more than Tinder Plus, with a discount if you choose to pay yearly rather than monthly.
Now, I've been out of the dating game for a while so maybe I'm just ~out of touch~ when it comes to what's cool and what's not. But, I've got to say, the whole FUN PART of Tinder when I first joined was that the person I swiped right on would have NO IDEA that I did so until they also swiped right on me.
Any and all possibility of me looking desperate was eliminated by the concept. But noooooow, if someone pays for the feature, they can see if I like them before they like me! Not great for my game.
But if you have some money to spare, and you're also in need of some loving, maybe this new feature is for you.
Who am I to judge?