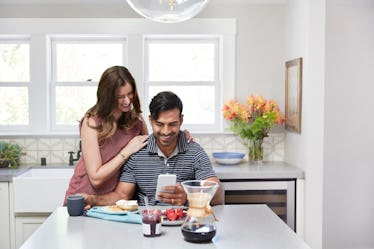 8 Opening Lines To Use On Hinge That Will Shore Up The Matches
Spring is here, and you're ready to get out from under your winter cocoon and fly like a butterfly! And, as a butterfly, you're seeking a partner, so you hop back on Hinge. It can be tough to start a conversation after you've been off dating apps for a while, so I gathered some of the best opening lines for Hinge. These lines will ensure that you're matching with the people you want just in time for some spring romance. As they always say, April showers bring May Hinge-matches (a lot of idioms need to be updated for our modern times).
On Hinge, if you haven't already matched with someone, you have to leave a comment on their profile to get them to match you back. These opening line suggestions are a great way to get someone's attention so that they will like your profile back right away! Plus, leaving a comment on a part of a profile shows that you've done your research and have personalized your message. You want a first message that leads into a longer conversation so you can find out how much the two of you have in common. Don't be afraid to add your own creative spin, and just remember — if they don't have at least one photo of them holding a fish, they didn't do online dating correctly.