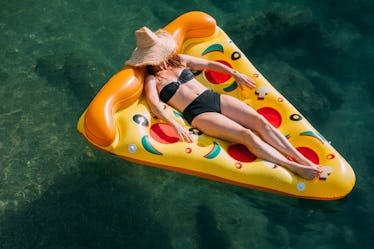 22 Punny Opening Lines For Dating Apps That Will Lead From Apps To Drinks
Whether you get you fill from finger foods or swiping sites — apps of all kinds can really come in handy. If you're looking for love on the world wide web, casting your .net can take some direct .com(munication). If plays on words makes your heart (lolli)pop with happiness, you may be a total sucker for these punny opening lines for dating apps. Making the first move IRL or online can seem a little daunting. Dropping in with a silly joke, like a pun or a nerdy-wordy joke, can be a sweet way to break the ice — like a polar bear that ended up in the ocean.
If you just matched with a cutie and you're totally blanking on what to say, starting a convo off with a cute pun can show your potential date your silly side. Your match is probably just as nervous as you are. Taking the reigns and messaging first can take some major pressure of your potential boo to start it all off. It can also make you look super hot and totally fearless.
If you're looking for something to say first, these 22 punny opening lines for dating apps are sure to lead to apps and drinks.