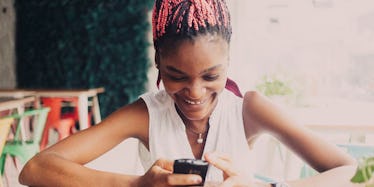 Need Dating App Inspiration? 5 People Reveal Their Go-To Opening Lines
If you're stuck on coming up with opening lines for dating apps, yeah, I've been there. Racking your brain for something clever that makes you stand out and not seem to desperate is a difficult task! Especially if you're on the shyer side.
The first thing I do when figuring out what to write to someone is scan their bio. These few lines can indicate hobbies and passions – if they say they're a Potterhead, you can ask what house they're in. If you see you went to the same college that you did, you can send your school mascot in emoji form. The bio is the best tool you have to create a personalized message.
But if their bio is empty, or doesn't reveal much, you could consider sending a pickup line. These are generic ice-breakers meant to learn more about the person and sense if they pick up on your humor or share interests with you. They're easy to send off, don't require too much effort on your end initially, and may lead to conversation, a date, or even a relationship. Check out some of the best options below.