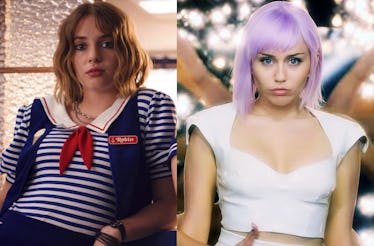 The Best Pop Culture Halloween Costume For You, Based On Your Zodiac Sign
Netflix
At this point, you probably have a pretty good idea of what you're going to be for Halloween, and you might have even turned to pop culture for some inspiration because of all of the awesome ideas that have surfaced throughout 2019. But if you're a procrastinator, or you simply haven't had the time to think it through yet, why not look to astrology for all the answers on what to dress up as on Oct. 31? Yeah, you heard me: You can totally figure out the best pop culture Halloween costume, based on your zodiac sign and your own personalized, quirky traits. Trust me, your costume is going to be so relevant and on point, even the people who go aggressively hard on all things Halloween every single year will be jealous.
Your zodiac sign can reveal a ton of cool things about your personality, and TBH, I don't know why it's not used more often in the brainstorming process for Halloween costumes. Don't you dare cop out and go as a black cat for the fourth year in a row. I know you can do better.
Whether you want to DIY your pop culture Halloween costume, or pick something up from the party store, the stars are here to help you narrow down your options. Here's the best pop culture Halloween costume for you, based on your zodiac sign.
Aries: Carol Danvers From Captain Marvel
If you're an Aries, you were basically born to be a superhero for Halloween. Take Carol Danvers from Captain Marvel, for example. She's passionate, strong, and never backs down from a fight. She may even be a little bit impulsive. Does that sound like an Aries, or what?
Taurus: Ariana Grande In Her "Thank U, Next" Music Video
"Luxury" might as well be your middle name, Taurus. What better way to celebrate your Venusian qualities than by being Ariana Grande in her "Thank U, Next" music video for Halloween? Like any good fashionista, this costume gives you plenty of options. You could emulate her take on Mean Girls' Regina George or Jennifer Garner's character from 13 Going on 30. Even dressing up like Ariana with her classic high ponytail and hot pink leggings is more than enough of a statement.
Gemini: Fleabag From Fleabag
You're sarcastic, cheeky, and hilarious, Gemini, so if you haven't been binge-watching Fleabag, you better get on that immediately. In fact, embodying Phoebe Waller-Bridge's character for Halloween would be ridiculously fun for you. All you'd need is a jumpsuit, a striped shirt, and maybe even a wig. Then you have an excuse for being a jokester all night long.
Cancer: Jasmine From Aladdin
You're inherently nostalgic, Cancer. It's what makes you such a deep feeler and so connected to your inner child. I bet Disney's live-action rendition of Aladdin left you dreaming about the good ol' days. Why not keep the whimsical spirit of childhood alive and be Princess Jasmine for Halloween?
Leo: Jennifer Lopez Reinventing Her Infamous Green Dress At Milan Fashion Week's Versace Show
You're the definition of "iconic," Leo. No matter what, you can't help but attract attention and admiration. J.Lo is no different. Her reprisal of the show-stopping green Versace dress she wore at the 2000 Grammys is a perfect example of that. You'll have everyone doing a double take at the Halloween party in this costume.
Virgo: Molly, Amy, Or Gigi From Booksmart
When you see a movie, you can't help but notice every little detail and analyze every single line. That's just the nature of being a Virgo. So when you saw Booksmart, I bet you were mesmerized by how ridiculously clever and memorable its was. Why not bring some of that energy into your Halloween costume? You could be Amy with her signature beret, Molly with her classic mustard turtleneck, or even Gigi with her little tiara. Why not enlist the whole gang to be part of this costume idea?
Libra: Hannah B. From The Bachelorette
There's a reason cuffing season coincides with your birthday, Libra. You're a hopeless romantic through and through, so dressing up as Hannah B. from The Bachelorette is beyond fitting. There are countless Bachelor-inspired costume ideas to choose from, and there's no way people won't find this look totally relevant.
Scorpio: Robin or Eleven From Stranger Things
You're smoldering with a deep and mysterious power, Scorpio. No one ever really knows what you're thinking, but they can see the passion behind your eyes. Doesn't this sound like Eleven from Stranger Things? I can't think of a zodiac sign more suited to this costume than you are. But she's not the only character from this legendary show you could be for Halloween. Robin's Scoops Ahoy uniform is also completely on point.
Sagittarius: Ashley O from Black Mirror
All a Sagittarius really wants is the freedom to do whatever they want. Ashley O from Black Mirror can totally relate. Why not embody that sentiment by making this Miley Cyrus' character's high-tech, futuristic look your Halloween costume? Hello, it gives you an excuse to wear a bubblegum pink wig and sing your heart out. You know the Hannah Montana alum would be proud.
Capricorn: E-Girl
You're refined, put together, and image-oriented, Capricorn. Own those facts, and dress to the nines at the next Halloween party. It's in your nature. In fact, your costume always has a touch of irony to it, which is why dressing up as an E-Girl gives you the chance to combine commentary on social media with a totally aesthetic-forward look. You'll have so many new followers by the time Halloween is over.
Aquarius: White Claw
You can't help but be something totally and utterly ridiculous for Halloween, Aquarius. That's just your quirky, wacky, and off-the-wall nature. Since everyone's so obsessed with White Claw Hard Seltzer these days, why wouldn't they be obsessed with your White Claw costume? Summer may be over, but there's no way people won't be talking about your costume for years to come.
Pisces: Rue or Jules From Euphoria
There's such a dreamlike and magical quality to the latest HBO series Euphoria. This makes you the perfect candidate for being Rue or Jules for Halloween. You're always searching for something a little more interesting than reality, Pisces. Why not glam yourself up with some sparkles and rhinestones before donning a pair of angel wings? You know you're into the idea.
This article was originally published on