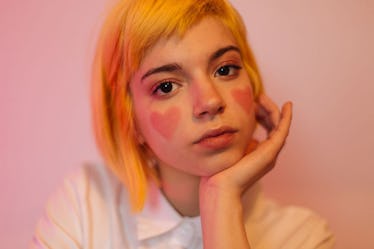 These E-Girl Costumes For Halloween Will Bring Your Internet #Look To Life
The latest fad in the world of social media and the Internet is TikTok. By now, I'm sure you've heard of this popular app and know it's a space where everyone, from teens to celebs, can start viral trends and show off their inner e-boy or e-girl. You may even be on the hunt for e-girl costumes for Halloween, or consider yourself to be this kind of person based on your #look.
You may rock multicolor hair IRL and in the videos you post, or dress up in oversized band T-shirts and wing your eyeliner. According to Buzzfeed.com, you may also draw a little heart on your face and put some extra blush on your cheeks so you're channeling your favorite anime characters, because why not? Arguably, that's one of the most beautiful thing about being an e-girl: your unwavering ability to be confident, bold, and express yourself and what you're passionate about in life as much as possible.
It might be why you've attracted a ton of hearts and adoring fans, too. You're part of this extremely cool club, and it's about time you bring your Internet #look to life. These four Halloween costume ideas will make it happen for sure.