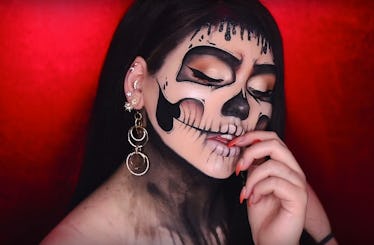 The 8 Best Halloween 2018 Makeup Tutorials On YouTube, From Scary Skulls To Wakanda Warriors
Ladies and gentlemen, get your makeup bags ready, because Halloween is fast approaching, and once you see the eight best Halloween 2018 makeup tutorials I've rounded up here today, you'll be itching to try these looks out for yourself. More and more, it seems people are focusing less on the outfit portion of a costume and instead prioritizing the accompanying glam. And considering Halloween, is, well, tomorrow, that's perfect — because you don't have to spend time looking for an actual costume. In fact, you can even get away with makeup as your whole costume, if you're really serving looks.
For those of you who were planning a couple's costume as Pete Davidson and Ariana Grande, if you haven't already heard, you might need to rethink your choice, because they're officially over. Don't worry, though, you can still be Ariana! Channel her Sweetener vibes in their full glam glory, thanks to a video by beauty guru James Charles called "GOD IS A WOMAN MAKEUP TUTORIAL & COVER." The video currently has over 6 million views, so clearly, people loved his look.
In the tutorial, Charles creates a gorgeous light purple eye look inspired by Grande, and accents it with those iconic pastel paint strokes as seen in the original "God Is A Woman" music video:
Charles even ends the tutorial by covering the song (in his completed Ari glam, of course) so you can jam out while you recreate the look at home!
While we're on the subject of Charles and his fab tutorials, I have to shout out his recent video with Kylie Jenner, in which the duo used her Kylie Cosmetics Halloween Collection to create yet another fire Halloween look, this time a half-face skull.
In the video, titled "Doing Kylie Jenner's Halloween Makeup," Charles uses products from Kylie's latest collection, but insists that you can totally recreate the look without them. The two most-used tools are a white eyeliner to sculpt the bones, and a dark shadow to fill in the hollows:
Watch the video yourself to hear Charles and Jenner gossip during their hangout session. But if you can't wait to see the final look, I'm happy to spoil it, because it's stunningly spooky:
Technically, you can recreate this look according to the tutorial and be a skeleton, or recreate it and then throw on a wig and be "Skeleton Kylie Jenner." I love options!
If you really want to take your skeleton glam to the next level, though, I dare you to follow a recent NikkieTutorials video titled "DRIPPING GLAM SKULL MAKEUP FOR HALLOWEEN."
Like, yes, Nikkie, you've got my attention!
Also, does anyone else think this could double as a "Skeleton Cher" costume, too? Because this wig is really serving me Cher:
If you love Nikkie's style but are over the idea of a skeleton beat, you're in luck, because this is actually the first in a weeklong series of Halloween tutorials she'll be posting, cheekily titled "Halloweek." I'm sure they'll all be as good as this one, so stay tuned to her channel to see what makeup-based costumes she creates next.
Maybe you're looking for a movie-inspired glam, though? Look no further than this gorgeous beat inspired by the smash hit film Black Panther.
She begins the tutorial by creating an eye look that, honestly, I'll probably be recreating multiple times post-Halloween, because it's really a gorgeous look:
She finishes with Wakanda-inspired markings, and the makeup is complete:
If you're looking for a little bit of a movie throwback look, I'm pleasantly surprised by how much I like the idea of a Violet Beauregarde costume, inspired by the 2005 version of Charlie & The Chocolate Factory. What's not to love about a cute, fun look that you can pair with a comfy blue sweatsuit and call it a day?
Following YouTuber Ellie Addis's video, "VIOLET BEAUREGARDE HALLOWEEN MAKEUP TUTORIAL" will ensure you have one of the most unique costumes at your Halloween party.
Another benefit of following this tutorial is that you can chew gum all night and consider it part of your costume:
And if you have trouble recreating the look to perfection? Blow a bubble whenever anyone tries to take your photo!
Into the idea of a really beautiful makeup look this Halloween? You might need a white dress to pull this one off (and, if you've got one, a royal ginger husband) but I know I'm definitely considering recreating Meghan Markle's wedding day glam for one of my costumes this year. I particularly like Beauty's Big Sister's tutorial, in a video titled "MEGHAN MARKLE ROYAL WEDDING MAKEUP TUTORIAL | Beauty's Big Sister,."
TBH, she looks so much like Markle that the end result is hard to believe.
The best part about a natural Halloween glam is that, should you end up really liking it, you've also found your new everyday makeup look, too:
Seriously, is this photo a screenshot from the makeup tutorial or the actual royal wedding? She looks so much like Meghan!
Maybe you're anti-glam when it comes to Halloween, and you're seeking a special effects tutorial to help you get a little gory? I can't relate, but whatever, to each their own. I will point you in the direction of the new Roxxsaurus tutorial, "TRIPPY SLICED UP ILLUSION HALLOWEEN MAKEUP."
Yep, this is definitely in the realm of what you're looking for.
Really nailing special effects makeup requires a good teacher, and Roxxsaurus goes step-by-step in this video, carving out every line so viewers can clearly see how she's creating the sliced-up look:
Even though I watched all the way through, my reaction to how real the end result looks is still how???
Feeling inspired yet? I'll give you one more tutorial from my secret stash of "must recreate" videos, and this one's all about eyes.
No, really, she's building spiders out of liner. On her eyes. See for yourself:
Halada even goes as far as creating shadows underneath the legs, so it really looks like spiders are crawling all over her face. I'm cringing at the thought:
Hopefully, the above are enough to get the gears in your brain turning when it comes to dreaming up the perfect Halloween glam for you. Whether you pull directly from one of these talented makeup artists' lewks or use them as inspo to create something new and unique, I wish you all the precision in the world, because nailing the perfect Halloween glam ain't easy.