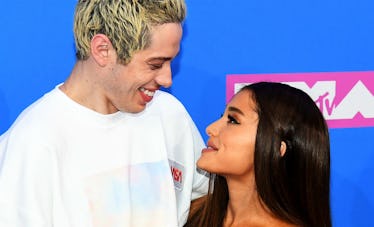 Ariana Grande Just Spoke Out For The First Time After Her Reported Split From Pete Davidson
Nicholas Hunt/Getty Images Entertainment/Getty Images
I am sad, you guys. Sad, sad, sad. Ariana Grande and Pete Davidson have reportedly broken up and canceled their wedding. And even though their split was kind of predictable given the swiftness of their engagement, I am still weirdly bummed out about this news. Not "OMG love is dead" bummed out. But "I totally shipped these two and am gonna need some answers" bummed out. You get the difference, right? Anyway, now we have Ariana Grande's first statement after her reported breakup with Pete Davidson, and I'm not crying you are.
Elite Daily reached out to Grande and Davidson's teams previously for comment regarding their reported breakup, but did not hear back by the time of publication.
Anyway, here's what she had to say. According to E! News, the pop star shared her first post since the reported breakup on her Instagram story on Oct. 15.
"Ok today was v special and i'm so grateful i was able to be there," she reportedly wrote in a post about the fact that she was taping NBC's A Very Wicked Halloween alongside Wicked star Idina Menzel. "Time to say bye bye to the internet for just a lil bit. it's hard not to bump news n stuff that i'm not tryna to see rn. it's very sad and we're all tryin very hard to keep goin. love u. and thank u for bein here always."
See what I mean? So heartbreaking! And it didn't end there.
"Can't believe I almost let my anxiety ruin this for me today!!" Grande reportedly added in another Instagram story. "Not today satan! Not tomorrow or the next day either not no more u can suck my big green d*ck. finna sing my heart out and be a big walking vessel of love bye."
She has since deleted all of the posts from her Instagram stories.
The news first broke that Grande and Davison were reportedly dunzo on Oct. 14, with sources telling TMZ that "it simply was not the right time for their relationship to take off" and that "the two still have love for each other, but things are over romantically."
Over romantically? What about all those amazing PDA fests and matching sets of ink? I guess these two have some major tattoo removal sessions in their future.
Meanwhile, according to People, the fact that these two are reportedly now canceled is apparently "not shocking to anyone" (except me), because the relationship between the "God Is a Woman" singer and the Saturday Night Live star was just "way too much too soon." TMZ added that it was reportedly an amicable split, and the couple could very well get back together in the future. Kinda like Miley and Liam.
Anyway, I really hope Ari is OK. It's been a challenging year for her, in light of Mac Miller's death in September, which came on the heels of the Manchester bombing that took place after one of her concerts. Is this part of the reason for her split from Davidson? It definitely could have played a part.
Prayers that she gets to a better place soon. And in the meantime, we'll all be here sending her love and light.