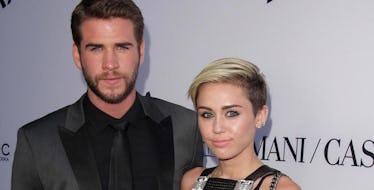 It's (Sort Of) Official: Miley And Liam Are Re-Engaged
Getty Images
GUYS, it's finally happening: Miley Cyrus and Liam Hemsworth are getting married.
For real this time, we hope.
PEOPLE reports the duo's engagement, initially called off in 2013, is back on. According to an unnamed source close to the couple,
Miley is beyond happy to be engaged to Liam again. It might seem sudden, but they have been close for the past few months. They just wanted to keep their relationship out of the spotlight while they figured things out. Liam never liked how exposed his life was with Miley.
According to the source, Cyrus is actively "making changes" to her life in the hopes that doing so will keep the relationship strong.
The news of the duo's re-engagement comes after multiple reports of Miley driving a U-Haul truck to Liam's Malibu pad, presumably to move in once again.
In addition, the "We Can't Stop" singer posted several photos to Instagram showing off the Neil Lane diamond ring Hemsworth bought for her in 2012, which is now sitting comfortably back on her ring finger.
Miley's Christmas trip to Australia seemed to solidify the duo's romance. According to the source, Liam's family was "hesitant" about Cyrus prior to the visit. Now, however, a source says,
Everyone seems excited that they are back together.
Congrats, Miley and Liam!
Citations: Miley Cyrus Is Beyond Happy to Be Engaged to Liam Hemsworth Again Says Source (People)