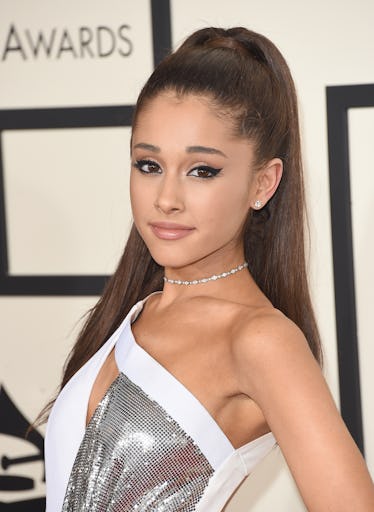 Ariana Grande Opened Up About Her Anxiety After The Manchester Attack & I'm Emotional
Jason Merritt/Getty Images Entertainment/Getty Images
Ariana Grande is finally opening up about how heartbroken she was over the attack at her May 2017 Manchester concert. Despite rising from the depths of her sadness to hold the One Love Manchester concert shortly after the attack, Grande told Elle that she truly struggled in the aftermath. As a matter of fact, Ariana Grande's anxiety after the Manchester attack affected her everyday life.
Grande graces the Elle cover in August and, for the cover story, she opened up quite a bit about the Manchester attack. Both Grande and her mother, Joan, talked at-length about how the attack changed their perspectives on life. And what Grande had to say about her mental state following the attacks is truly tough to read.
In the cover story, Grande said she struggled with dizzy spells, mood swings, and anxiety after the attack occurred:
When I got home from tour, I had really wild dizzy spells, this feeling like I couldn't breathe. I would be in a good mood, fine and happy, and they would hit me out of nowhere. I've always had anxiety, but it had never been physical before. There were a couple of months straight where I felt so upside down.
Part of what made Grande so distressed following the attack, she says, was that she was physically there and experiencing the horror of the event in real time. For her, that was very different than reading about such a tragedy online or seeing it on the news:
You hear about these things. You see it on the news, you tweet a hashtag. It's happened before, and it'll happen again. It makes you sad, you think about it for a little, and then people move on. But experiencing something like that firsthand, you think of everything different.
Although Grande wasn't keen on giving specifics of that night, her mom explained in detail how she felt during the attack:
I was like a fish swimming in the wrong direction. Everyone was leaving, and I was going toward the stage. The bomb went off, and I'm looking at these young adults with fear in their eyes. People were jumping from the upper seats to get out. I just started grabbing people. I could have been steering them.
All the pop singer's mom wanted to do was find her daughter and make sure she was safe. For a brief moment, though, she expected the worst:
I didn't know where I was going. I just knew I was going to my daughter. Not to be overly dramatic – I struggle with this every day – but I didn't know what I would find when I got to her. I sympathize with every parent who was waiting for a child. Those minutes when you don't know what's happening … there are no words.
Thankfully, Grande was safe, but that didn't keep the 25-year-old singer from grieving in her own way. Her mother explained the effect the attack had on her daughter:
Ariana cried endlessly and barely spoke for two days … It was two or three in the morning; she crawled into bed and said, 'Mom, let's be honest, I'm never not going to sing again. But I'm not going to sing again until I sing in Manchester first.'
On June 4, 2017, three weeks after the attack, Grande held the One Love Manchester concert to help those impacted by the incident. It was an emotional night, but ultimately one of unity and healing.
Grande was very emotional during the concert. Here she is performing "One Last Time":
Grande told Elle that doing that concert changed everything for her. "Why would I second-guess getting on a f**king stage and being there for them? That city, and their response? That changed my life."
It seems Grande's life has changed for the better. At least, her mother thinks so. Her mother told Elle, "She loves a bit more fearlessly than she did before."