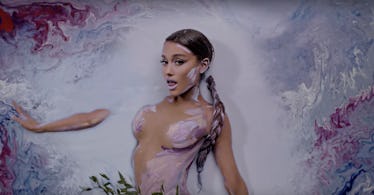 The Artist For Ariana Grande's "God Is A Woman" Video Shared Her Famous Inspo For The Paint Scene
If you don't already feel like women are the center of the universe, after hearing the inspiration behind the body paint in Ariana Grande's "God Is A Woman" video, you'll certainly be convinced. If you've seen the music video for Grande's new song, then you probably remember the scenes where the singer is essentially floating in a pool of pink, blue, and purple paint-like liquid, with just a few parts of her body painted in similar colors. Those scenes were made possible by artist Alexa Meade, a 31-year-old, LA-based body painter, who revealed in a recent interview with BuzzFeed News that the inspiration behind the scenes where Grande is emerging from the pool of paint, posing as the center of the universe, were inspired by the American visual artist Georgia O'Keeffe.
"The song is about female empowerment, so a big inspiration was Georgia O'Keeffe. Her flowers were so suggestive, and the idea was to create Ariana in the middle of a giant Georgia O'Keeffe painting," Meade told the publication, specifically referencing O'Keeffe's "Grey Lines With Black, Blue and Yellow," a stunning piece from 1923, as a major source of inspo. I mean, a female musician singing about how God is actually a female, while being painted by a female painter, who was inspired by yet another famous female artist? Sounds like girls really do run the world.
The girls behind this worldly creation also run it in a time crunch, too. Meade is known for her body painting technique, where she paints think lines on people's bodies to match the style of the settings she places them in — a process that typically takes a significant amount of time. However, Meade was recruited by Grande's camp just a couple weeks prior to shooting the video to create the scenes with the liquid background. In those two weeks, Meade burnt the midnight oil to figure out which body paint and liquid background would photograph best.
"There's a lot of considerations," she told BuzzFeed News. "Paint is typically more dense than liquid, but it's also water-soluble, and normally dissolves and dissipates." So after experimenting with various liquids in inflatable pools, Meade and the video team decided against water and in favor of vegan milk.
But while placing Grande in a pool of swirling colors was inspired by the unfolding petals from O'Keeffe's artwork, the brush strokes Meade carefully placed on Grande's body were actually all Grande's idea. According to Meade, Grande thought the blue and purple colors would blend well against her darker skin tone — and damn, she was right. "It was an incredible stroke of genius and artistic insight, and I need to give credit to Ariana for that one," Meade said.
All in all, BuzzFeed News reports that Meade was very impressed with how the final product ended up. Apparently, it only took about 40 minutes to paint Grande's body, though Meade usually spends as much as a half hour just painting someone's face. "I spent a lot of my time during the shoot ensuring that the paint in the bath looked good and she wasn't getting paint splashed on her face," Meade said. "I wasn't able to take a step back and see the finished product until later. It turned out so epically beautiful."
The shoot turned out so beautiful, in fact, that the handmade cosmetics company Lush is planning to release a bath bomb inspired by the exact pool of purple, pink, and blue paints from Grande's music video. So you can be reminded that God (or whatever higher power you believe in) is a female every time you take a bath.