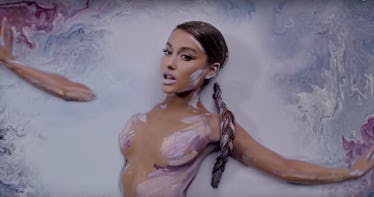 Lush Is Making An Ariana Grande Bath Bomb, Because "God Is A Woman" & Her Name Is Ariana
No one could make rolling around in a pool of dirty paint water look more appealing than Ariana Grande. Such a scene takes place in the singer's "God Is A Woman" music video and now, thank whatever gods you believe in because an Ariana Grande Lush bath bomb is in the works. Set the date for your next at-home spa day because the multi-colored bath bomb looks heavenly AF.
In the "God Is A Woman" music video, one of the opening scenes has Grande sensually moving around in an ocean of paint water. The singer is nude, save for some artfully placed streaks of paint on her chest, and my first thought when seeing the video was, "Is this a new spa treatment I can do?" A few days ago, the answer to that question would've been no, but my prayers have been answered because now it is.
Lush, the cosmetics brand most well-known for their coveted bath bombs (although, they also make package-free shampoo bars), has taken the initiative to make a bath bomb themed around Grande's music video and the purple paint scene. The brand hasn't even made an official announcement about it yet, but Lush's devoted followers found a few clues scattered throughout Instagram, and the bath bomb thirst is real.
Let me back up for a second, however, because you need watch Grande's video if you haven't seen it yet. Aside from providing context for this exciting new bath product, the song and corresponding video is an inspiring anthem for female sexuality and empowerment.
The above scene from the video is what caught Lush's attention. It does kind of look like Grande used the biggest bath bomb known to womankind. But with no formal reveal, how did fans find out that a bath bomb like this was in the works?
Lush's Chief Digital Officer, Jack Constantine, sneakily teased his God Is A Woman bath bomb prototype on Instagram! I mean, wow, that really looks like the scene in Grande's video.
Grande herself even found the clip and commented, "I'm............freaking out." Uh, same. Then, the official Lush Cosmetics Instagram account responded to Grande! Lush wrote back, "We can't wait for you to see it in person!" I'm crying so many happy tears I've got none left.
Constantine posted a few more behind the scenes photos of the bath bomb development process. So much purple, so much glitter, I need.
It's almost here! This metallic bath bomb looks as amazing to me so, Jack, can you please release it already?
Twitter is ready to take all the baths.
No bathtub? Who cares?
I will bathe in the sink, or buy a kiddie pool, but it's happening.
Showers begone.
Oh my god (is a woman), yes.
I can't wait to listen to Sweetener while using a God Is A Woman bath bomb. #Goals.
Let the good times roll.
Yup.
Iconic AF.
Even Grande herself tweeted her excitement.
Same.