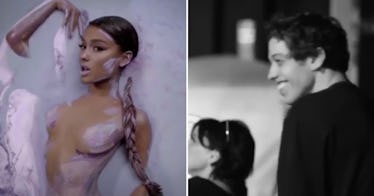 Pete Davidson's Mesmerized Reaction To Ariana Grande's Sexy "God Is A Woman" Video Is So Cute
YouTube; Instagram/ArianaGrande
Can we talk about Pete Davidson and Ariana Grande for a second? I mean, why not, right? I feel like I have been talking about them all summer. They are just so freaking IN LOVE that it makes me want to reevaluate everything in my life. Like, have you seen Pete Davidson's reaction to Ariana Grande's "God Is A Woman" video? The pop singer posted a clip of him watching her video shoot for the song on her Instagram feed, and the dude is legit CAPTIVATED by his fiancée's performance. Seriously, the clip of him checking her out is the cutest thing you will see all day.
In the video, Davidson is on the set of Grande's "God Is A Woman" video shoot. It's unclear what exactly the SNL star is looking at. Maybe he's looking at a screen playing footage of Grande's sexy performance, or maybe he's watching Grande film a shot right in front of his very eyes, but whatever he's looking at, he's in what can only be described as a trance while the onlookers next to him sing and dance along to the tune.
"Omg now that the songs out i can show u this whole clip," Grande wrote in the caption of the video. "That face @petedavidson." And since the couple has a habit of showing the world how they feel about each other on social media, Davidson wasted no time responding.
"Mesmerized," he wrote in the comment section. "Couldn't even like believe what I was seeing."
Check it out:
I know — these two are total GOALS. I mean, find you a guy who watches you do ANYTHING the way Pete Davidson watches Ariana Grande in this video.
And of course, Davidson gave Grande props on his own Instagram feed as well.
"GIAW out now !!!!," he captioned the shot. He then added another shoutout to his Instagram story because THE LOVE IS SO REAL.
‌"GIAW at Midnight," he wrote. "This is my fav one on the album it's bonkers!!"
These two are just amazing. And "bonkers" = my new favorite word.
Meanwhile, "God Is A Woman" was originally slated to be released on July 20, but Grande surprised her fans by dropping the tune a whole week early on July 12. So major! And the song is seriously sexy. I mean, just check out these lyrics:
You, you love it how I move you / You love it how I touch you / My one, when all is said and done / You'll believe God is a woman / And I, I feel it after midnight / A feelin' that you can't fight / My one, it lingers when we're done / You'll believe God is a woman
Pretty steamy, right? Here's a few more:
I don't wanna waste no time, yuh / You ain't got a one-track mind, yuh / Have it any way you like, yuh / And I can tell that you know I know how I want it / Ain't nobody else can relate / Boy, I like that you ain't afraid / Baby, lay me down and let's pray / I'm tellin' you the way I like it, how I want it
Damn, gurl! Way to own your sexuality! Although, according to Grande herself, "God Is A Woman" is about so much more than that. It's about "sexual female empowerment," and "how women are literally everything & the universe is inside of us."
Preach, Ari! You are a female empowerment queen for real and none of us are worthy! Except, you know, for this guy:
Bonkers.