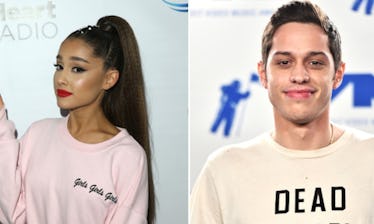 Ariana Grande's New Song May Be About Her Relationship With Pete Davidson & I'm Into It
GETTY IMAGES/JESSE GRANT + GETTY IMAGES/ALBERTO E. RODRIGUEZ
Hear ye, hear ye, we have some pretty excellent news coming out of the music world right now: Ariana Grande's "God Is A Woman" has dropped a week earlier than anticipated, and I for one am ecstatic. I've been anxiously awaiting Grande's new album, Sweetener, that's set to drop next month, so this new single is a welcome lil' surprise. Thanks, Ari! Whenever new music comes out, I immediately listen to the lyrics on repeat, in the event that I'm asked to go out for a night of karaoke and want to impress friends with my ability to memorize a hot new song in minutes flat (just me?). But I also like to try and analyze what exactly the singer is trying to tell us about the song, and now I'm wondering: Is Ariana Grande's "God Is A Woman" about Pete Davidson? While there's no concrete way of knowing for sure (unless we ask Grande herself), there are definitely some clues that point us in the right direction.
Back in May, Ariana Grande caught up with Jimmy Fallon and revealed that she was releasing a new album this summer, after what fans have felt like they've been waiting for centuries.
"Yes, my album is coming this summer ... I worked with Pharrell, and Max, and ILYA, and Savan, and it was a really awesome experience."
The audience was pumped (and so was I), and Grande also revealed the name of her album, Sweetener, and the reason behind the title. She said,
It's kind of about bringing light to a situation or to someone's life, or somebody else who brings light to your life, or sweetening the situation.
All of this news was, in one word, glorious, and I was even more delighted to hear when Grande announced via Republic Records on June 20 that Sweetener will be available on Aug. 17, 2018.
While it seemed like August was forever to wait for Sweetener, Grande did her fans a solid and announced on social media that "God Is A Woman" would be released on July 13. Grande took to Instagram and Twitter on July 11 and wrote, "surprise. twenty four hours til giaw.":
The news came just after Grande gave the world a sampling of the song's lyrics, posting four separate tweets about "God Is A Woman," that, when combined, go:
you ..... love it how i move you, love it how i touch you my one, when all is said n done, you'll believe god is a woman, and i..... feel it after miiiiidnight, a feelin that u cant fight, .... it lingers when we're done, you'll believe god is a woman
Some of the other song lyrics go:
You, you love it how I move you / You love it how I touch you / My one, when all is said and done / You'll believe God is a woman / And I, I feel it after midnight / A feelin' that you can't fight / My one, it lingers when we're done / You'll believe God is a woman
Can we just talk about how those lyrics sound like pure fire? And, now that we've got the full song available for our listening pleasure, the immediate question is, naturally, how much is Ariana Grande's relationship with Pete Davidson playing into these lyrics?
It should be noted, though, that Grande explained that "God Is A Woman" is all about "sexual female empowerment" and got pretty deep with her explanation when a fan asked the singer what the song was about, questioning if the song was about feminism or something entirely different. Grande responded, writing, "sexual female empowerment & how women are literally everything & the universe is inside of us tbh":
Damn, talk about intense.
So if it's more about the empowerment of the female body, does that mean that the song is not about Pete Davidson?
Wellllll.
That can certainly be argued. It can definitely be debated that perhaps the song is a mixture of her love and passion with Davidson, but on a grander scale, the song may be about exploring sexuality.
Either way, whether it's about Pete Davidson or not, the song itself is catchy AF and is proof that Ariana Grande can really do no wrong.
Thank you, Ariana Grande, for giving us life once more with your music.