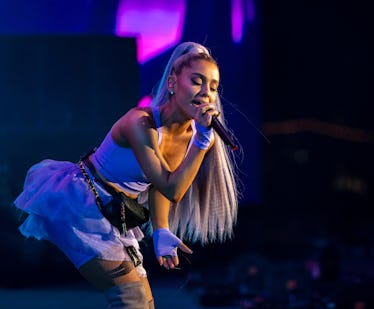 Ariana Grande Just Revealed Her New Album Name & It's Coming SO Soon
Christopher Polk/Getty Images Entertainment/Getty Images
If you're an Ariana Grande fan (and really, who isn't?), then prepare yourselves for a boatload of amazing news. We're talking musical updates, personal updates, and just an all-around return of Ariana. And let me tell you fam, you're going to like everything you're about to hear. Grande went on The Tonight Show Starring Jimmy Fallon to catch up and spill some tea on her new music. She revealed that she has a new album coming out (insert applause here) entitled Sweetener, and now everyone can jump up and down from their seats because Ariana Grande's new album is coming! Of course, your next reaction would be to wonder, when does Sweetener drop? Well, Ariana Grande sort of, kind of, unintentionally, told the world an estimated date... and it's soon.
UPDATE: Ariana Grande announced via Republic Records on June 20 that Sweetener will be available on Aug. 17, 2018.
EARLIER: On May 1, Ariana Grande caught up with Jimmy Fallon, and was asked if the world was going to be hearing an album from her anytime soon. She immediately revealed that her album is coming this summer, and the audience basically ruptured into a fit of applause and screams. And yes, if I were there, I too would be clapping and screaming. No shame there.
She said, "Yes, my album is coming this summer ... I worked with Pharrell, and Max, and ILYA, and Savan, and it was a really awesome experience."
And she told us the name of the album is Sweetener, and gave us the reason why. News flash: It's adorable AF. She said,
It's kind of about bringing light to a situation or to someone's life, or somebody else who brings light to your life, or sweetening the situation.
Oh happy, happy day. I am in love with this album title, and I don't care who knows it. Great job, Ariana.
Fallon then asked if she could spill any track names, and Ariana Grande was like, "I can. Should I just spit it out?"
Um, yes please.
"My fans know that I have a song called 'R.E.M.' because I have a big mouth and I went on Twitter and I just, like, tweet-vomited a bunch of lyrics the other day," Grande said. Love it. Love it.
And apparently, there's another song called "The Light Is Coming," which sounds absolutely gorgeous. Oh yeah, and another that's called "God Is A Woman." I'm in sensory overload right now, you guys.
But it gets even better, because she revealed the first song on her track list, with a story behind it that will give you goosebumps. The first track is called "Raindrops," and it's a small portion from a song called "An Angel Cried" that was made back in the '50s. Grande said,
I had it in my head, and I woke up — we were really close to finishing in the album ... and I said to Max, 'You know what? Let me just like, record this little part of a cappella' ... And so that's how the album starts. And I went to go check to see who wrote it. Just, I mean, I was curious, you know, and it turns out — this is so crazy, y'all are going to think I'm lying. But my grandfather's best friend, who I grew up hanging out with in Boca, Charlie Calello, wrote it with Bob Gaudio of the Four Seasons.
Is this real life? Of course it's real life when you're Ariana Grande.
But wait, if you thought that this would be the end of new music updates, you're buggin'. Because Grande then mentioned that since she's not announcing the album date just yet, she'll be doing something special on every 20th of each month before the album drops.
"Can you give us an example?," Fallon asked her, and man, did she deliver.
"There's only like, three 20th's until the big thing. But you know, I just told you when it is."
I am shooketh.
If my calculations are correct, that means that her album will be coming out at any point on or after July 20.
You can watch the whole interview here, but be prepared to just obsess over how unbelievably gorgeous Grande looks in her pink babydoll dress and knee-high boots:
Oh, and no biggie, but she also revealed that for May 20, she'll be performing at the Billboard Music Awards. Super casual, super low-key, not important at all.
Ariana, might I speak for myself and the rest of the world: Thank you. Thank you so very, very much.