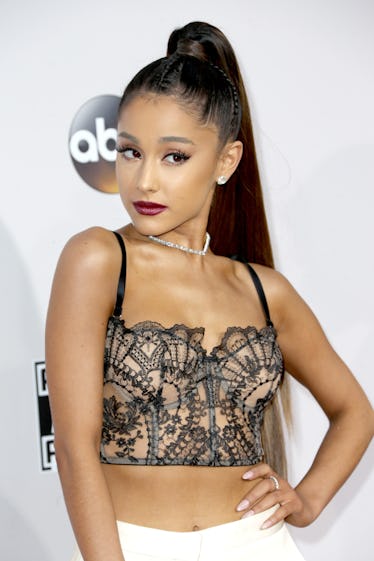 Ariana Grande Just Announced A New Single Is Coming & It'll Be Here SO SOON
Frederick M. Brown/Getty Images Entertainment/Getty Images
Ariana Grande has been staying pretty low-key these days, which makes me ultra sad. But, while I was busy drinking my sorrows away with boxed wine, our girl Ariana was busy getting ready to show the world some new music, so yay! It's official, y'all. She's back in business. And Ariana Grande's "No Tears Left To Cry" single is coming so soon, and I know that this new music is totally going to be worth the wait.
It's been a hot minute since the world was gifted new music from Ariana Grande. Her last album, Dangerous Woman, dropped almost two full years ago, so needless to say, fans have been anxiously awaiting to hear new music from Grande. But on Dec. 13, 2017, Grande gave us a sneak peek of something big. In her Instagram Story, she shared a screenshot of her in the recording studio — but this photo was reportedly taken from a fan's account, and was not recent.
On the screenshot, Grande's caption read, "I'm pretty sure dis is very old or fake." Fans were bummed. Why get our hopes up like that, Ariana? But joke's on us, because Grande then added, "If u wanted confirmation that I've been workin why didn't you just ask?"
Ariana then posted a photo of a Polaroid picture that depicted her in the studio, looking like a boss:
Yas, queen!
And if that wasn't enough, Grande shared a New Year's Eve post just as the clock struck midnight. Sure, it was basically just the singer humming for several seconds, but my god, it was the best damn sound my ears have ever heard:
Now it looks like the wait is almost over, because on Tuesday, April 17, the 24-year-old singer shared some very intriguing tweets with her fans. First, she made her Twitter comeback with one single emoji: The teardrop (or raindrop, but for this instance, we're going with teardrop):
She followed that tweet with a second tweet that simply said, "missed you," and guess what, Ariana? We missed you, too.
Then, the final tweet. The Big Kahuna. The be-all and end-all.
It was written upside down, which made it kinda hard to read, but for Ariana Grande, I will absolutely flip my laptop around to try and decode what she wants to tell us.
Her tweet read, "No Tears Left to Cry," alongside a date (that was right-side up, thanks so much for that small mercy, Ariana), "4.20."
Naturally, fans freaked the hell out, because she's been radio silent on social media for months now, and clearly this could only mean one thing: new music.
And there was literally no way to contest that notion, because Grande's manager, Scooter Braun, confirmed the glorious news by re-tweeting and adding, "Friday @ArianaGrande new single. The wait is almost over." So there is literally zero doubt that in just a few short days, the world will be a better place, because we will have more music from Ariana Grande:
More Ariana in our life. More Ariana in our life!!
It was amazing to see Grande take the stage on March 24 as part of the March For Our Lives rally, singing "Be Alright," to honor those affected by gun violence and to stand with the Parkland students as they demanded change for gun control legislation. Her message was deeply powerful and meaningful, and I know that Grande's new music, whatever it may be, will be equally inspiring as she is.
So, if you're having a tough day today, or just want to hear some good news, remember: Ariana Grande is back in action, everyone.
Now let's watch the queen conquer.