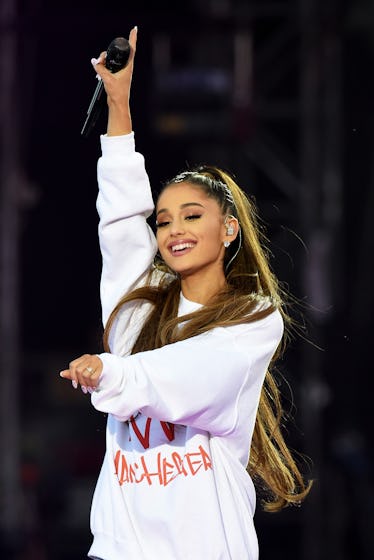 Ariana Grande Finally Teases New Music On Instagram, So Get Pumped For 2018
Getty Images/Getty Images Entertainment/Getty Images
While you were too busy drinking champagne and feeling fancy AF, Ariana Grande was slaying the end of 2017. And we don't just mean she wore a sparkly dress and had someone really, really, ridiculously good-looking to kiss at midnight. No, no, not our girl. She was busy gifting the world a sneak peek at what to expect from her in 2018, and man, oh man, should we get excited. It's no secret that Grande has some serious vocal chords, but in her newest Instagram post, we learned that Ariana Grande's new music is coming soon and her voice is straight-up #goals.
It's been quite some time since we heard new music from Ariana Grande, with her last album, Dangerous Woman, dropping over a year ago, and fans were getting juuuust a bit anxious as to when they'd be hearing more music. And, on Dec. 13, we got our answer. In her Instagram Story, she shared a screenshot that showed her in the recording studio, reportedly taken from a fan's account.
On the screenshot, her caption read, "I'm pretty sure dis is very old or fake." Grande added, "If u wanted confirmation that I've been workin why didn't you just ask?" GASP.
Ariana then posted a photo of a (Polaroid) photo of herself in the music studio, looking fly as hell:
Oh, hello, dope ponytail and platinum locks. Hello, off-the-shoulder getup. Ariana, can you get any cooler?
(Short answer: no.)
Of course, fans were beyond shook because ARIANA IS MAKING NEW MUSIC AND THIS IS VERY IMPORTANT:
Others were more focused on the, erm, smaller details:
OK, but let's not focus on that because Ariana is life and everything she does is absolute magic. Let's not get it twisted.
So just when we thought life could not get more amazing, we were wrong, because Grande shared her angelic voice with us just as the clock struck midnight for New Year's:
Do I care that all we were given was a chorus of Ariana saying "Hmm"?
NOPE. It's perfection.
Also, her caption is hinting at what's to come for 2018, saying, "See you next year," and how did we even deserve this?
In September, Grande spoke about pursuing new music in light of the tragedy at her Manchester Arena concert in the U.K. back in May of 2017, and her choice to return to the city to play a benefit concert in honor of the victims and their families. She said,
It's been very challenging for all of us involved. So it would be nice to really hold my loved ones close for a little while, stay home for a little bit. But knowing me, I'm going to be in the studio because I love it, and I want to create. I started an album already a year ago, over a year ago, but I want to keep creating, and it's not done yet. So I'm going to take my sweet ass time, so I'll be rested and ready to go again as soon as possible.
While we completely understand that difficulties she no doubt faced during 2017, we are so, so excited to hear what she's going to be giving her fans in 2018.
Ariana, this it totally going to be your year. While the whole world is trying to come up with New Year's resolutions (which, let's be honest, nobody will even stick to anyway), Ariana Grande is clearly preparing for world domination, slaying our feeds with her incredible bars.
So I have a New Year's resolution, and it consists of me obsessively checking my social media, anxiously awaiting for Grande to give us any small hint of what she'll be delivering to us in 2018.