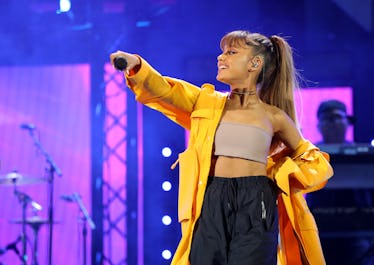 Ariana Grande Performed At March For Our Lives & It Was So Emotional
Christopher Polk/Getty Images Entertainment/Getty Images
On March 24, students, teachers, and gun reform activists marched for gun control legislation across the nation as a part of the March For Our Lives rally. Even celebrities joined the movement, as both performers and attendees at the rallies across the nation. In celebration of such a historic event, Ariana Grande's March For Our Lives performance was super empowering, and had an incredibly powerful message.
Ari sang "Be Alright" for her performance, and the message seriously spoke to the cause. Not only does it reiterate that "we're gonna be alright," but it was also super upbeat and uplifting. Ariana's selfie-hug with the students afterwards was also so amazing, and watching it totally made my day.
The tragic Feb. 14 school shooting of Marjory Stoneman Douglas High School in Parkland, Florida, where 17 students and educators died, spurred students to stand up and fight for gun reform. As a response to the huge problem of gun violence in America, Parkland high schoolers organized the March For Our Lives event. Since news surfaced about the upcoming rally, celebrities openly voiced their support for the movement. Among them was Ariana Grande, for whom the issue of gun safety is extremely personal, making her March For Our Lives performance that much more powerful, as seen below.
Parkland activist and student journalist David Hogg announced on March 14 during a CNN interview about "four major independent women" attending the March For Our Lives rally. He said,
We're gonna have four major independent women that are standing with us and walking beside us, and those are Ariana Grande, Jennifer Hudson, Miley Cyrus and Demi Lovato. They're gonna be standing there with us and marching with us and they're some of the few people that are really coming out and stepping up with us.
On May 22, 2017 during Grande's concert in Manchester, U.K, a tragic bombing killed 22 people. In response to the tragic event, Grande organized the One Love Manchester benefit concert on June 4, 2017. Grande was joined on stage by the likes of Miley Cyrus, Justin Bieber, Pharrell Williams, and more. Each performance was live-streamed across the globe and served as emotional tributes to the victims and families of victims.
Among her performances, perhaps the most touching was her rendition of "Somewhere Over The Rainbow," which brought both Grande and her audience to tears.
The Parkland student protestors have been making waves across the nation and have garnered support from political figures and celebrities alike. Since the announcement that these four female powerhouses would be attending March For Our Lives, Jennifer Hudson tweeted on March 15 to express her excitement to attend the March For Our Lives event.
March For Our Lives was a very highly-anticipated event, but it isn't the only act of protest that's been happening across the nation. On March 14, students, teachers, and gun control activists called for gun reform legislation by walking out of classrooms as a part of National Student Walkout. These walkouts occurred all over America, from New York to Los Angeles. On March 14, pop icon Miley Cyrus tweeted in support of these brave activists.
And as for the march itself, not everyone could make it to D.C, but there are a number of sister marches taking place nationwide, including in Florida, New York, and Los Angeles. In fact, other celebrities including Amy Schumer, Yara Shahidi, Connie Britton, Olivia Wilde, and Mayor Eric Garcetti attended the March For Our Lives rally in Los Angeles on March 24. Plus, Charlie Puth marched and performed during the rally. Puth released a public statement on March 8 stating that he was excited to attend the march. He said,
I am honored to be performing at March For Our Lives Los Angeles. It has been incredibly inspiring to see students across the country organize and mobilize and I am grateful to be able to lend my voice to their call for action.
March For Our Lives may have been a star-studded event, but let's not forget the main purpose behind this rally: to end gun violence. Want to know how you can get involved after the march? Here's a rundown on how you can support the movement.