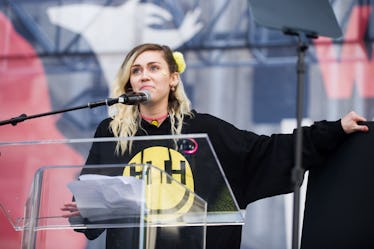 Miley Cyrus, Demi Lovato, & So Many More Celebs Are Joining The March For Our Lives
Emma McIntyre/Getty Images Entertainment/Getty Images
A bunch of young activists are showing up to do what adults have failed to follow through on. After the school shooting in Parkland, Florida on Feb. 14, students have been banding together to say "enough is enough," and they will no longer accept being neglected by their own government. These young activists have organized the March For Our Lives on Washington D.C. to demand that the government prioritizes taking action on gun reform. Now, it's been announced that when those students protest, they won't be alone. Celebrities are joining the March For Our Lives to stand with those Parkland students as they demand change.
Parkland shooting survivor David Hogg announced in a March 14 CNN appearance that some powerful female superstars will be joining the cause: Ariana Grande, Demi Lovato, Miley Cyrus, and Jennifer Hudson will all be marching alongside the students. Hogg told CNN,
We're gonna have four major independent women that are standing with us and walking beside us, and those are Ariana Grande, Jennifer Hudson, Miley Cyrus and Demi Lovato. They're gonna be standing there with us and marching with us and they're some of the few people that are really coming out and stepping up with us.
Elite Daily reached out to representatives of all four women, but did not hear back by the time of publication.
The March For Our Lives will take place on March 24 in Washington D.C. at 12 p.m. ET with "sibling events" in other cities across the country. Anyone who would like to participate or find out if their are events taking place in their state, can head to the March For Our Lives site. There's a place there to register and a "sibling event" locator tool.
Those four "major independent women" will join the march in Washington, but they're not the only ones who will do their part for the cause. Billboard reported that singer Charlie Puth will be marching and performing at the Los Angeles "sibling event." Puth expressed how inspiring it is to see students "organize and mobilize," and said that he's honored to be a part of it. He said in a statement,
I am honored to be performing at March For Our Lives Los Angeles. It has been incredibly inspiring to see students across the country organize and mobilize and I am grateful to be able to lend my voice to their call for action.
It's pretty awesome to see that these kids have managed to garner attention even from today's hottest celebrities. If I think back to what I was doing in high school, I can tell you that I am definitely too old to remember, but I can guarantee it wasn't anything that could change the world.
The March For Our Lives is the latest in a series of protests calling for gun control reform
On Wednesday March 14, students across the country participated in a 17-minute school walkout — one minute for each of the 17 victims of the Parkland school shooting. The event was to pay tribute to those killed, but also another step forward on student actions for gun control.
At 10 a.m. in each time zone, student left their classrooms en masse. Some gathered and read names of the Parkland victims. Others took to the football fields to spell out "enough" or staged lie-ins. Whatever medium the students chose, one thing was certain: they meant business.
The National Student Walkout was organized by EMPOWER, the youth division of the Women's March. According to EMPOWER, about 1 million students from around 3,000 schools participated in the walkouts.
It was truly amazing, and showed that these kids are persistent and powerful.
These children really are our future and I am totally okay with that.
These student activists have put in a lot of time and effort to make sure that no student has to go to school feeling unsafe. Judging by all they've managed to do in a month, I would put all my money on them. Adults, you should all start paying attention — because these kids are going to do what you couldn't.