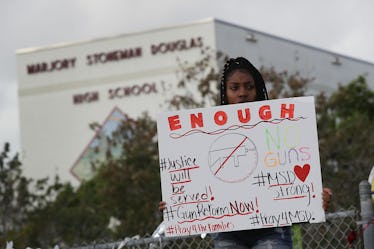 Here's What To Know About The LA March For Our Lives, If You're On The West Coast
Joe Raedle/Getty Images News/Getty Images
In the weeks since the tragic school shooting at Marjory Stoneman Douglas High School in Parkland, Florida, there has been a massive outpouring of vocal support for finally enacting stronger gun laws in this country. Leading the crusade for gun control are the student survivors from Parkland, who have amazingly managed to organize a major demonstration to tell politicians that enough is enough, and we need stronger gun control now. They've titled their event the March For Our Lives, and it will take place on March 24 in Washington D.C. But if you live too far from the capital, there will be marches taking place all over the nation. So, will there be a March For Our Lives in Los Angeles as well?
UPDATE: As of March 20, the location and time for the March For Our Lives in Los Angeles has been changed. The starting point is now on the corner of South Spring Street and West 6th Street, where marchers will meet at 9 a.m. PT according to the march's FAQ page. Organizers recommend that participants arrive at the start location between 8:45 and 9 a.m.
EARLIER: There absolutely will be. The Los Angeles march is set to take place at Pershing Square in the downtown area and will start at 10 a.m. PT on March 24 as well. There are currently over 20,000 "interested" attendees, and I'm sure there will only be more as the date of the protest looms closer. So if you live in SoCal and are planning to come out and show your support, make sure you RSVP on the Eventbrite page so that you can get all of the latest up-to-date info.
The events that have led to this wave of advocacy for gun control are unfortunately very saddening. On Feb. 14, a school shooter attacked Marjory Stoneman Douglas High School in Parkland, Florida just before school was to be let out at 3 p.m. The attack ultimately took the lives of 17 people, most of whom were students. It is one of the the deadliest school shootings in American history.
The survivors of the shooting have come out in full force since the attack and have appeared on countless news programs and other shows to vocalize their concerns about gun laws in the U.S. and call for action. Three of the survivors, Emma Gonzalez, Cameron Kasky, and Jaclyn Corin, went on The Ellen Show on Feb. 23 to raise awareness for their cause and for the upcoming March 24 march. Kasky explained that the inspiration for creating the march came from the critics that told these student survivors that this is time for mourning, not to discuss gun control. He stated, "We said, now might not be the time to talk gun control. Here's the time to talk about gun control — March 24."
That is exactly the kind of authoritative approach that these students have taken when it comes to raising awareness to this issue. And the public has heard them loud and clear. In fact, these kids and the march that they've organized just days after the attack is so inspiring that the world is following suit. Countless other "March For Our Lives" demonstrations have been organized around the world — everywhere from Brussels to London. A sister rally scheduled the same day in New York City already has 10,000 people who have RSVP'd on Facebook, and that's not counting those participating in other gun control walkouts and protests, like the Enough! Walkout scheduled for April 20. It's a testament to how powerful these students' voices are, and how desperately so many people want our government to take action on this issue.
So make sure you've marked you calendars for March 24 and get out there to make your voice heard. It's hard not to feel motivated to attend one of these marches when these kids have so passionately called to address this problem in our country. They've had enough and they don't want another Parkland shooting to happen again — and I don't know anyone that can't be against that.