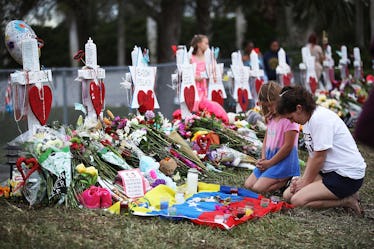 Here's What To Know About The NYC March For Our Lives, If You Can't Make It To D.C.
Joe Raedle/Getty Images News/Getty Images
The discourse when it comes to gun legislation reform has become louder and much more aggressive since the tragic school shooting that occurred in Parkland, Florida on Feb. 14. The students that survived that shooting have come out in full force and are holding up megaphones to Washington D.C., when they say that enough is enough and the government needs to address stronger gun control now. They've even organized a march on the capitol dubbed the "March For Our Lives," which will take place on March 24. But if you can't make it to Washington and live in the New York area, will there be a March For Our Lives in New York City that you can participate in?
Luckily for all of us, there will in fact be a march happening in NYC on March 24 — as well as countless other major cities throughout the nation and all over the world. The details are not yet clear at the moment, but the NYC march is scheduled to begin at 10 a.m. ET in Manhattan, although the specific location has not yet been announced, according to the event's Facebook page. But I'm sure as the date nears we'll know the details of where the specific route will take place. If you're interested, be sure to RSVP for the event on Facebook and follow the NYC March For Our Lives page for all the latest updates.
There will also be marches taking place all over the nation and the world, according to Facebook.
Marches are scheduled in locations like Philadelphia, Boston, London and Brussels. You can check out the movement's official Facebook page and find out where the closest march is happening near you, because this is one event that you definitely do not want to miss. And whether you plan on attending a march or not, make sure that you register on the march's official website so that you can receive all of the latest updates.
But the March For Our Lives isn't the only gun control related demonstration that's happening. The Enough! Walkout, organized by the youth branch of the Women's March, will take place on March 14 at 10 a.m. in each time zone. Students and their allies will walk out of their classrooms at that time for 17 minutes, representing the 17 victims of the Parkland shooting. Another walkout will take place on April 20, on the 19th anniversary of the Columbine shooting. All of this has been organized in just under two weeks since the Parkland shooting, which is seriously incredible.
This movement that's vocally and aggressively advocating for gun control is extremely inspiring, but how we've reached this point in American society is absolutely heartbreaking. On Feb. 14, a school shooter attacked Marjory Stoneman Douglas High School in Parkland, Florida just before school was to be let out at 3 p.m. The attack ultimately took the lives of 17 people, most of whom were students. It is one of the the deadliest school shootings in American history.
The alleged shooter reportedly used an AR-15 rifle in his attack, which was also the weapon used in the Las Vegas massacre that occurred in Oct. 2017. That shooting on the Route 91 Harvest Music Festival killed 58 people and injured almost 500, making it the deadliest mass shooting in American history, according to CNN. The alleged shooter in Las Vegas also used bump stocks — a device that turns a semi-automatic into an automatic gun.
The alarming rate at which these mass shootings have been happening in modern U.S. history have inspired this movement of finally taking a firm and outspoken stand for stronger gun laws. Leading the charge are the survivors of the Parkland shooting, and these young teens, many of whom aren't even old enough to vote, have become the faces of this movement and have inspired countless others to follow their crusade.
What these students have been able to accomplish in two weeks is awe inspiring. And their passion and dedication to this cause is reason enough to be inspired to take action. So if you're in the New York City area on March 24, you can come out and join these students in the March For Our Lives. Civic engagement has never been more important.