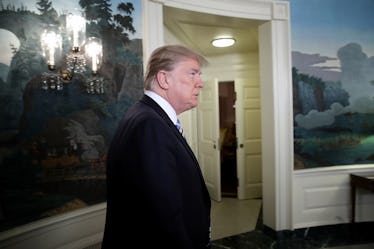 Donald Trump Just Took His First Major Action On Gun Control After Parkland
Win McNamee/Getty Images News/Getty Images
There is no denying the massive impact that the school shooting that occurred in Parkland, Florida on Feb. 14 has had on America. In the aftermath, both survivors and gun reform advocates have been calling for change to gun laws. And on Feb. 20, President Donald Trump took a first step in addressing how this country treats guns. Trump recommended banning bump stocks in an official White House memo, according to CNBC, in his first significant move on gun control since the tragic school shooting.
On Tuesday Trump signed a memo addressed to the Attorney General Jeff Sessions, directing that the sale of bump stocks, a device that allows semi-automatic weapons to function like automatics, be barred and that the device be declared illegal in the United States. Trump made the announcement from the White House at an event that was honoring first responders. In his statement the president said,
After the deadly shooting in Las Vegas, I directed [Sessions] to clarify whether certain bump stock devices like the one used in Las Vegas are illegal under current law. That process began in December, and just a few moments ago I signed a memorandum directing the attorney general to propose regulations to ban all devices that turn legal weapons into machine guns. I expect that these critical regulations will be finalized, Jeff, very soon.
Trump's recommendation comes six days after the tragic shooting that occurred at Marjory Stoneman Douglas High School in Parkland, Florida.
The alleged shooter was a 19-year-old former student who had been expelled from the school about one year ago for reasons that remain unknown. The gunman opened fire on the school's campus just before 3 p.m. on Valentine's Day, shortly before students finished their school day. A total of 17 lives were lost, most of whom were young teenage students.
Since the tragedy, students from the school have become vocal advocates for increased gun control and legislative reform in this nation. They have appeared on news programs and called on Congress to act in strengthening gun laws, and have even organized a "March For Our Lives" on the nation's capital that will take place on March 24 to protest Washington's lack of action on gun control.
This move from the Trump administration is a positive step in actually hearing this plea to finally enact some legislative change.
But it's only a recommendation, and not permanent legislation. Per CNBC, the regulators would have to be published in the Federal Register and the regulations would be open for public comment before they can take effect. When you take a step back and look at the bigger picture here, the call to make bump stocks illegal is not a totally solidified policy move.
It's also a little late. The motion to eliminate bump stocks can be regarded as a response to the Las Vegas shooting that occurred on Oct. 1, 2017. In that shooting on the Route 91 Harvest Festival that claimed the lives of 58 victims. The alleged gunman used bump stocks on AR-15 rifles to enable a more rapid shooting rate, pushing out more bullets in less time and shooting more people than he might otherwise have been able to. The alleged shooter in Parkland does not appear to have used a bump stock, although the same model AR-15 rifle was used, per NBC.
In light of this information, one might think that the Trump administration should have made this motion months ago following the tragic Vegas shooting. Although in Trump's statement he claims that this call to ban bump stocks has been in the works since last December, you may recall that the White House said on Oct. 2 following the Las Vegas tragedy that discussing gun control was inappropriate at the time. Press Secretary Sarah Sanders stated that, "There's a time and place for political debate but now is time to unite as a country."
So the memo and statement that Trump has made today stands in contrast to the way the White House has responded in the past. This might signal a change in mind set regarding the issue of gun control, which is something that we have not yet seen out of this White House. But for now, I think I'll wait to cheer until definitive legal action is taken by Congress and actual change is made.