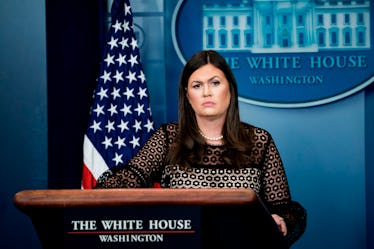 The White House Says Now Is Not The Time For A Gun Control Debate After Vegas Shooting
BRENDAN SMIALOWSKI/AFP/Getty Images
White House Press Secretary Sarah Huckabee Sanders said during a press briefing on Monday, Oct. 2, that the Las Vegas shooting, which left at least 58 dead and more than 500 injured, was not the time to talk about gun control, claiming that it was "premature." Sanders said, "There's a time and place for political debate but now is time to unite as a country." As she is the press secretary, have the word that the White House's stance on the gun control debate is that now, right after the deadliest shooting in American history, is not the time to have it.
Sanders started the topic of Las Vegas by giving a few anecdotes of police officers and first responders who risked their lives for others during the shooting. Sanders, holding back her tears, said, "What these people did for each other says far more about who we are as Americans than the cowardly acts of a killer ever could."
In the days ahead, Sanders said, the nation will grieve, mourn the lives that were lost, and come together as "one nation, under God, indivisible."
When asked about Trump's demeanor and reaction to the news today, Sanders described Trump as being "saddened" like "most of America today," and that his "heart and compassion goes out to those who are affected."
The next question asked was lingering on the minds of many Americans. One reporter asked, "Has this particular massacre made the president think anything more about pursuing tighter gun laws, such as background checks, to prevent massacres like this from happening again?'
To which Sanders replied, "Today is a day for consoling survivors and mourning those we lost." Sanders said the investigation was "ongoing," and a motive has "yet to be determined," so it would be "premature to discuss policy when we don't know all the facts or what took place last night."
However, the gun control questions didn't cease. Another reporter asked, "Does the president believe that he could bring something new to the gun debate that has been a locked in politic for so many years?" Sanders replied along the same lines:
Today is more a day of reflection, a day of mourning, and a day of gratefulness for those that were saved. There will be a certain time for that policy discussion to take place, but that's not the place that we're in at this moment.
The same reporter immediately followed up by mentioning Trump's prior stance on gun control, referring to his 2000 book, The America We Deserve, in which Trump seemed more keen on gun restrictions. The reporter asked for specificity as to when a conversation about a change in policy would happen.
Sanders replied with, "I think that's something we can talk about in the coming days, and see what that looks like moving forward." Sanders explained that the government need not create laws that will be ineffective, claiming that Chicago, after attempting to enforce stricter gun laws, has not improved in its gun violence.
Trump is planning to visit with first responders and families of the victims in Las Vegas on Wednesday, Oct. 3. One reporter asked what the message to each of those groups would be when he goes to Las Vegas.
Sanders responded with, "His goal is simply to be there to show the support of people from around the country and to stand united – not only against this act of evil, but against all acts of evil."
Another reporter brought up a bill that was Republican-approved and actively advancing through the House Committee on Natural Resources that would, among other things, make it easier to buy gun silencers, which Hillary Clinton tweeted about this morning.
The reporter asked, does the White House have a stance on this legislation?
Sanders response was,
I haven't spoken to the president about this specific issue, but again, I don't think that's something that would have changed. Before we start trying to talk about the preventions of what took place last night, we need more facts. It's very easy for Mrs. Clinton to criticize, but we need to remember the only person with blood on their hands is that of the shooter. This isn't a time for us to go after individuals or organizations. I think we can have those policy conversations, but today is not that day."
Las Vegas was among other topics at the White House briefing today, such as Puerto Rico, North Korea, and the travel ban. Sanders repeatedly highlighted that today was not the day to talk policy and gun control, and that a conversation would happen soon. She left many questions unanswered, but the one most reporters keep asking is: If not today, then when?