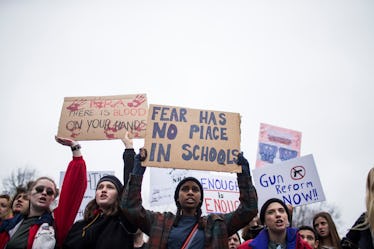 Here's How To Support The March For Our Lives, Even If You Can't Make It In Person
Zach Gibson/Getty Images News/Getty Images
Since the shooting that left 17 people dead at Marjory Stoneman Douglas High School in Parkland, Florida on Feb. 14, students, activists, community members, school staff and many others have banded together at protests to demand stricter gun laws. But of course, it costs money to organize and host these kinds of events, and they need help wherever they can get it. If you've already discovered that you aren't able to attend the march, you're probably wondering how to donate to March For Our Lives at least, so here's everything you need to know.
As of Feb. 20, the best way to donate is through the March For Our Lives' GoFundMe page. According to their mission statement, the campaign was started by Cameron Kasky, a student at Marjory Stoneman Douglas High School and creator of the march. Part of the statement reads,
Our team has been working hard since day one. The funds will be spent on the incredibly difficult and expensive process that is organzing a march like this. We have people making more specific plans, but for now know that this is for the march and everything left over will be going to the victims' funds.
As of Feb. 20, the campaign has raised more than $945,000 of its $1.5 million goal.
So the campaign is definitely on track to make its goal. But don't worry if you still want to put in — if the donations surpass the goal, the leftover money will go to funds for the victims of the Parkland shooting, according to the GoFundMe page.
Several celebrities have already donated to the event.
According to CNN, on Feb. 20, George and Amal Clooney announced via statement that they would be donating $500,000 to the march. Clooney said they were donating to the cause because their "children's lives depend on it." The rest of the statement read,
Amal and I are so inspired by the courage and eloquence of these young men and women from Stoneman Douglas High School. Our family will be there on March 24 to stand side by side with this incredible generation of young people from all over the country, and in the name of our children Ella and Alexander, we're donating 500,000 dollars to help pay for this groundbreaking event.
Film producer Jeffrey Katzenberg and his wife, Marilyn, followed suit shortly after the Clooney's pledge. The couple also donated $500,000 to the march. Katzenberg said, according to Deadline,
Marilyn and I are proud to stand with the brave young leaders from Parkland, Florida, who have taken their pain and grief and turned it into action. We will join Amal and George Clooney on March 24 to stand alongside these remarkable young people. We are also donating $500,000 to March for Our Lives to support this historic event.
Sometimes I feel like the public only really get involved in causes when huge figures show their support, so I'm thrilled that the Clooneys and Katzenbergs have stepped up — especially to such a highly-criticized and sensitive topic. It means a lot, and I'm sure it does to the activists, too.
The March For Our Lives is a little more than a month away.
March For Our Lives, created to protest gun violence and call for stricter gun laws, is scheduled for March 24 and will take place in Washington D.C. When speaking in response to criticisms about it not being the right time to talk about gun reform, Kasky came up with a more "appropriate" time. He told ABC News,
People are saying that it's not time to talk about gun control. And we can respect that. Here's a time. March 24th in every single city. We are going to be marching together as students begging for our lives.
If you are able to make it, you can sign up through the March For Our Lives website or simply march in your own communities that day.
We can't reverse the tragedy that has struck Parkland, Florida, but we can show up and try to prevent it from happening again. Or even if that's too big of a challenge, a couple bucks can go a long way in the fight for gun reform. Now, where's my wallet?