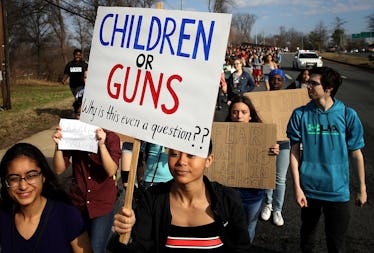 A Massive Amount Of Students Walked Out In Gun Protests To Make Their Voices Heard
Win McNamee/Getty Images News/Getty Images
On Wednesday, March 14, students across the country — from kindergartners to grad school students — walked out of their classrooms in protest of gun violence. The students were protesting against the lack of safety they have from guns, with most of their efforts focused on the lack of gun control laws that would keep them safe. One of the most remarkable aspects of the demonstration was just how many students walked out in the gun protests across the country. This massive turnout shows that this is, clearly, an issue that the younger generation cares greatly about, and they're not going to stay quiet about it, even (or especially) if they're still too young to vote.
The National Student Walkout was organized by EMPOWER, the youth branch of the Women's March, which is the same group that has been planning demonstrations since the 2016 presidential election. EMPOWER, which includes young people in its ranks, worked in tandem with students to set up the walkout.
And all that planning seemed to pan out pretty nicely. Almost 1 million students were part of the walkouts on Wednesday, according to EMPOWER. This included over 3,000 schools that registered their participation with EMPOWER from all 50 states.
This demonstration came exactly a month after a shooting at Marjory Stoneman Douglas High School in Parkland, Florida, where 17 students and educators were killed. After the shooting, the survivors immediately leaped into activism, calling for gun reform across the country to protect other students from future shootings.
On Wednesday, many of the students honored the victims of the Parkland shooting. They hosted die-ins to represent the victims of gun violence and held moments of silence across the country to further honor the victims. Students also had the names of the victims written on posters and shirts.
Meanwhile, per EMPOWER, students also had voter registration drives to make sure that those who are old enough to vote were ready for the next election (many of which are coming up this year — take this as a reminder to check your own voter registration status).
"Today, the inspiring number of students who participated in #ENOUGH walkouts, despite some schools threatening disciplinary action, made one thing very clear: young people have a voice, we have numbers, we have power and we will not be silenced," Winter Minisee, Women's March Youth EMPOWER National Student Leader, said in a statement. "If our elected officials aren't listening to us, we will bring our power to the polls and we will vote them out of office in November. Enough is enough. We demand action."
The walkouts ranged from full classrooms marching out to lone students making their own stands, like second grader Leonardo Aguilar in California, who was the only student to protest in his class. Aguilar's mother walked him over to a high school, where he joined the older kids. Sophomore Rosa Rodriguez in New Jersey was also the only student to walk out at her school after the school district threatened would-be protesters with suspensions. (While the students have citizen rights, schools can still punish students for skipping class.)
Although Aguilar and Rodriguez were alone at their schools, they were far from alone in protesting for their lives on Wednesday, with hundreds of thousands of students and educators doing the same. These students are working to make their voices heard, and they are showing that the stalemate of gun control laws are massively unpopular among the upcoming generation, which could sway votes in the future as the students reach voting age. Until they do, they are making a simple plea to be able to go to school without fear. It doesn't sound like a lot to ask.