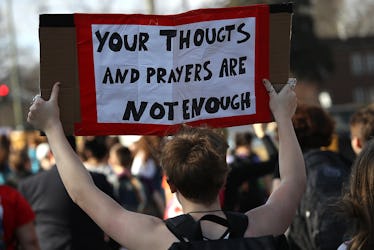 These Posters From The National Student Walkout Say What Politicians Need To Hear
Win McNamee/Getty Images News/Getty Images
On Wednesday, March 14, students across the country stood up to protest against gun violence and the toll it has taken on schools. The National Student Walkout was a way to demand gun control from politicians, and the students made sure that their demand was made loud and clear through the posters for the National Student Walkout. This demonstration was prompted after the Feb. 14 shooting at Marjory Stoneman Douglas High School in Parkland, Florida, where 17 students and educators were killed.
Following the shooting, many of the students from Parkland immediately began speaking out to demand gun reform laws. The Marjory Stoneman Douglas students have spoken out both to the media and to politicians through demonstrations, rallies, and talks with various political leaders. The actions of these students has prompted loud actions from other students across the country, from kindergartners to college undergraduates and grad school students.
The Enough! Walkout was organized by EMPOWER, the youth branch of the Women's March, the same group that has been planning demonstrations since the 2016 presidential election. EMPOWER includes young students and worked with other students to ensure that the protest was a youth-driven activation, and students across the country proudly met the call with the walkout on Wednesday. The walkout began at 10 a.m. and continued across the country at 10 a.m. in each time zone. Each walkout lasted 17 minutes to honor the 17 lives lost in Parkland, Florida.
The message that the students are sharing at the walkout is stark and straightforward: Students do not want to go to school with the threat of being violently killed by a gun. They spoke out against politicians who won't enact stricter policies, against the NRA and its lobbying power, and in honor of the many young victims of school shootings.
These are some of the students' posters.