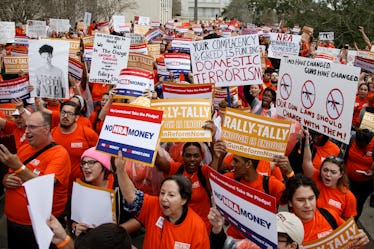 Students Are Walking Out To Protest Gun Violence & The Photos Are So Moving
Don Juan Moore/Getty Images News/Getty Images
On Wednesday, March 14, students, teachers, and parents from around the country walked out of schools to advocate for gun control legislation. The protest, officially dubbed the National Student Walkout On Gun Violence, comes exactly one month after a gunman killed 17 people at Majory Stoneman Douglas High School in Parkland, Florida. Photos of the National Student Walkout On Gun Violence show the vast scope of the countrywide demonstration.
The scenes came from protests in major cities like Atlanta, Philadelphia, and New York City, where New York Governor Andrew Cuomo joined in on one demonstration. Protests were also held in suburbs, like Alexandria, Virginia, which sits just outside of Washington D.C., and in smaller towns and cities across the country.
In all, over 1,000 protests were scheduled to take place Wednesday, according to NBC News. A description of the protest on its official site reads,
Women's March Youth EMPOWER is calling for students, teachers, school administrators, parents and allies to take part in a #NationalSchoolWalkout for 17 minutes at 10 a.m. across every time zone on March 14, 2018 to protest Congress' inaction to do more than tweet thoughts and prayers in response to the gun violence plaguing our schools and neighborhoods. We need action. Students and allies are organizing the national school walkout to demand Congress pass legislation to keep us safe from gun violence at our schools, on our streets and in our homes and places of worship.
Here are a series of images from the demonstrations: